On Thanksgiving Eve in 1936, Mildred Jestes from Sorento, Bond County, Illinois married Marion Webb Elliott from Wood River, Madison County, Illinois. The couple married at the Presbyterian Church in Wood River. The groom was the nephew of Louise Elliott, the third wife of my great-grandfather
Henry Brown Gatlin
. He was also my 6th cousin twice removed. Louise (my 5th cousin three times removed as well as my step-great-grandmother) was a distant cousin of my great-grandmother
Anna Gertrude Tarkington
, Henry Brown Gatlin's second wife. I don't think the two women knew that they were related. They may not even have known each other.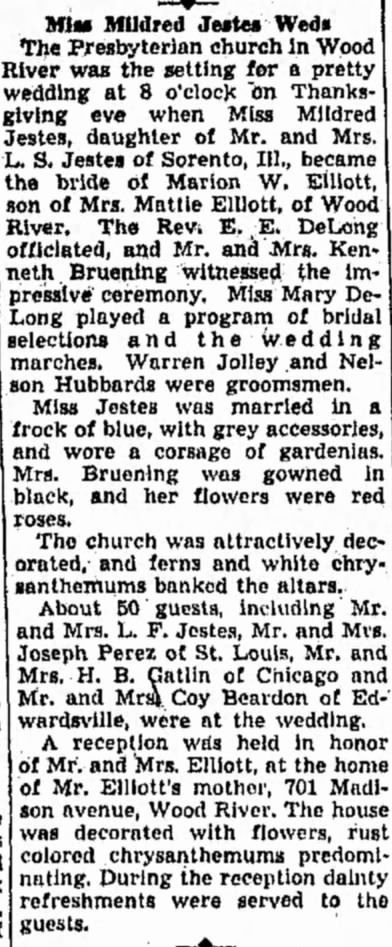 Alton Evening Telegraph, 27 November 1936, page 6
Henry and Louise attended the couple's wedding. It is interesting that they were referred to as "Mr. and Mrs. H. B. Gatlin of Chicago." Although their residence was accurate, their marital status was probably not. When Louise filled out her Social Security application on 1 December 1936, she stated that her name was Louise Elliott Francis. If they married legally, they probably did it later.