The below letter was written in 1900 by my great-great-grandfather Carl Joseph Schneider to his wife Christina (Nagel) Schneider and their children. He had gone to his native Germany to visit family and friends. The letter appears to be a typed copy and may be a translation. The typographical errors in my transcription are also present in the typed letter.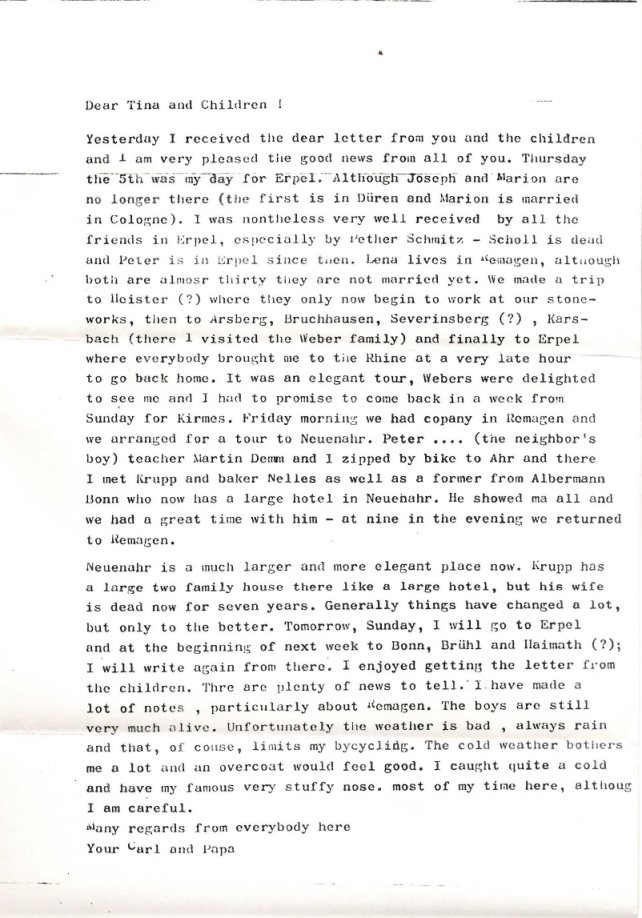 Dear Tina and Children!
Yesterday I received the dear letter from you and the children and I am very pleased the good news from all of you. Thursday the 5th was my day for Erpel. Although Joseph and Marion are no longer there (the first is in Düren and Marion is married in Cologne). I was nontheless very well received by all the friends in Erpel, especially by Pether Schmitz - Scholl is dead and Peter is in Erpel since then. Lena lives in Remagen, although both are almost thirty they are not married yet. We made a trip to Heister (?) where they only now begin to work at our stoneworks, then to Arsberg, Bruchhausen, Severinsberg (?), Karsbach (there I visited the Weber family) and finally to Erpel where everybody brought me to the Rhine at a very late hour to go back home. It was an elegant tour, Webers were delighted to see me and I had to promise to come back in a week from Sunday for Kirmes. Friday morning we had copany in Remagen and we arranged for a tour to Neuenahr. Peter . . . . (the neighbor's boy) teacher Martin Demm and I zipped by bike to Ahr and there I met Krupp and baker Nelles as well as a former from Albermann Bonn who now has a large hotel in Neuenahr. He showed ma all and we had a great time with him - at nine in the evening we returned to Remagen.
Neuenahr is a much larger and more elegant place now. Krupp has a large two family house there like a large hotel, but his wife is dead now for seven years. Generally things have changed a lot, but only the better. Tomorrow, Sunday, I will go to Erpel and at the beginning of next week to Bonn, Brühl, and Haimath (?); I will write again from there. I enjoyed getting the letter from the children. There are plenty of news to tell. I have made a lot of notes, particularly about Remagen. The boys are still very much alive. Unfortunately the weather is bad, always rain and that, of couse, limits my bycycling. The cold weather bothers me a lot and an overcoat would feel good. I caught quite a cold and have my famous very stuffy nose. most of my time here, althoug I am careful.
Many regards from everybody here
Your Carl and Papa
This letter is full of clues to follow up on. I recognize the names of several ancestral places, but do not know of any family connection with some of the places. Many people are mentioned, but I do not know who they are. Joseph and Marion may be Carl's half-siblings Wilhelm Josef Schneider and Maria Schneider. I suspect that Agnes Schmitz from Kendenich, a sponsor at the baptism of Carl and Christina's son Johann Wilhelm Schneider, may be Christina (Nagel) Schneider's sister Agnes. Christina was born in Kendenich. Perhaps Pether Schmitz was Agnes Nagel's husband.