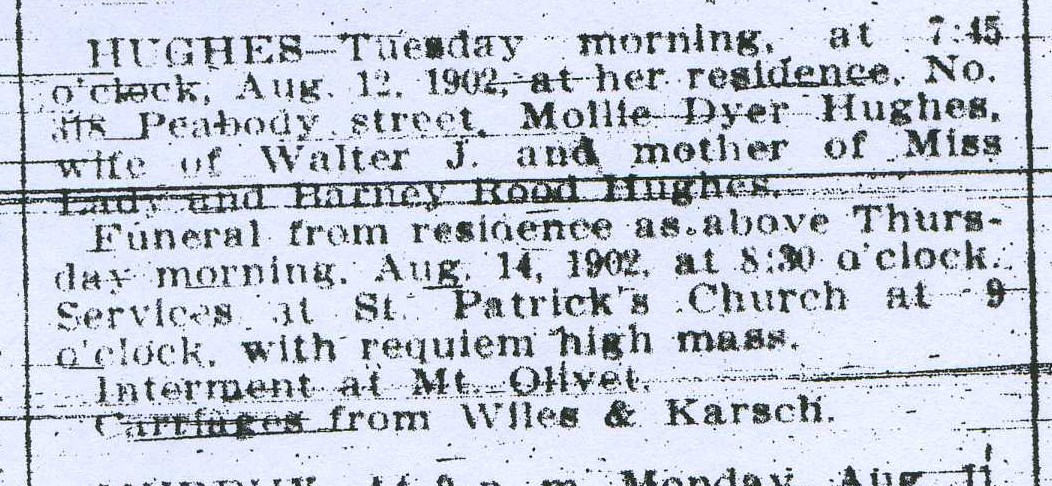 Nashville American, 13 August 1902, page 7
From the August 13, 1902 issue of the
Nashville American
:
HUGHES
–
Tuesday morning, at 7:45 o'clock, Aug. 12, 1902, at her residence, 318 Peabody street, Mollie Dyer Hughes, wife of Walter J. and mother of Miss Lady and Barney Rood Hughes.
Funeral from residence as above Thursday morning, Aug. 14, 1902, at 8:30 o'clock. Services at St. Patrick's Church at 9 o'clock, with requiem high mass.
Interment at Mt. Olivet.
Carriages from Wiles & Karsch.
________________________________
Mary E. "Mollie" Dyer Hughes was the oldest child of my 3rd-great-grandparents
Mary
and
Michael Dyer
. Census records give three different birthplaces for her: Missouri, Kentucky, and Louisiana. She was enumerated with her parents in St. Louis, Missouri in the 1860 United States Census when she was a baby (age 1/12 according to the census), so she was probably born in St. Louis, Missouri. On 11 February 1882, she married Walter J. Hughes in Davidson County, Tennessee. Their daughter Helen M. "Lady" Hughes was born in December 1882, and their son Barney Rood Hughes was born on 25 October 1889. Mollie died of uterine cancer on 12 August 1902 in Nashville, Tennessee.