In 1938, my great-grandfather Edward Theodore Anderson wrote an account of his life for his daughter Helen (my paternal grandmother) and son Earl. I feel very fortunate to have a copy of this account, which is the source of much of the information in this post.
Earl Theodore Anderson was born on 10 August 1882 at his parents' home on 97 Townsend Street, Chicago, Illinois. He was the son of
Andrew T. Anderson (Andreas Troedsson)
and Marthe Elisabeth Erickson (Eriksdatter). He was baptized at the Immanuel Lutheran Church at Sedgwick and Hobbie Streets. The first school he attended was the Oak Street School on the North side of Chicago. In 1889 the family moved to 5915 S. Morgan Street in the Englewood neighborhood of Chicago. He then attended school in a vacant store at 60th and Racine until Beale School was built. He attended Beale School until 7th grade. He then went to work as an office boy with the Englewood News Co., 6242 Wentworth Ave. He also studied for confirmation, and was confirmed by Rev. Geo. E. Youngdahl in 1897.
His next job was with the Continental Casualty Co. in the basement of the Postal Telegraph building. He learned the printing business at this job. He then worked for different plants, and eventually went to work for the Continental Colortype Co. on Market and Monroe Streets. He was in charge of the platen process. The three color process was used; yellow, red, and blue inks were used on copper plates to produce different colors, including black. The inks were mixed by hand on zinc tables. Edward believed that the ink was affecting his health, and he changed occupations at this time.
Edward took a three-month course in shorthand and typing at Orr's Business College at 63rd and Yale Ave. He subsequently worked for the Chicago and Eastern Illinois Railroad at Dolton Junction, the Chicago and North Western Transportation Company, the Chicago and Western Indiana Railroad and Belt Railway, and in the Vice-Presidents office of the Illinois Central Railroad.
Edward married Ellen Victoria Dahlquist on 20 June 1910 in Chicago. On their honeymoon, they went to White Bear Lake, Minnesota and the Dells in Wisconsin, and traveled by boat to Muskegon, Michigan. Their first home was at 6638 Sangamon Street, Chicago.
Edward passed a stenographer's examination in July 1910, and on 19 September 1910, he went to work for the City of Chicago. His starting salary was $90 per month.
On 27 September 1911, their daughter Helen Martha Marie was born. They then moved to 208 E. 70th Street and then to 7244 Lowe Street. The family lived at each residence for a couple of years, and then lived at 6547 S. Peoria Street for about six years. Their son Earl Theodore was born on 7 July 1917.
In 1923, they went to an architect and had plans drawn up for a two-story brick house, and moved to their home at 8241 S. Peoria Street in April 1924.
Around 1928, Edward became the Secretary-City Treasurer for the city of Chicago. His salary was $300 per month. He had to take a salary cut in 1932 through 1938 (ranging from 10 percent to 22 percent) as a result of the Depression.
In 1943, Edward was on the
Board of Deacons
at Bethlehem Lutheran Church , 58th and South Wells Streets, Chicago. He was deeply religious, and wrote the following about his faith:
During my own life, and since Ellen and I have lived together, we have been blessed immensely by our Creator. He has taken care of us continually and without Him we would not have been where we are today. We have been blessed with God-fearing parents which is an asset far beyond comprehension. We have both had Christian experiences with our Lord Jesus Christ, and expect, after leaving behind this life, to be joined by you, Helen, and you Earl, in the Heaven above which is prepared for those who love the Lord Jesus.
By 1951, Edward and Ellen had moved to St. Petersburg, Pinellas County, Florida. Edward died at New Fern Restorium in St. Petersburg on 2 December 1965. He was buried on 4 December 1965 in Memorial Park Cemetery, St. Petersburg.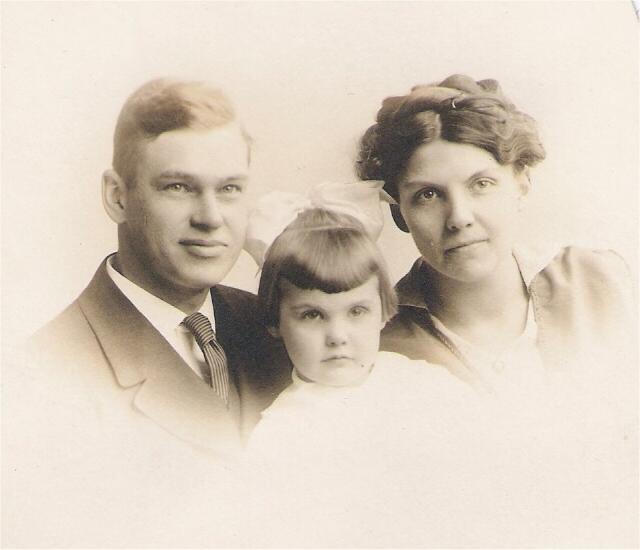 Edward, Helen, and Ellen Anderson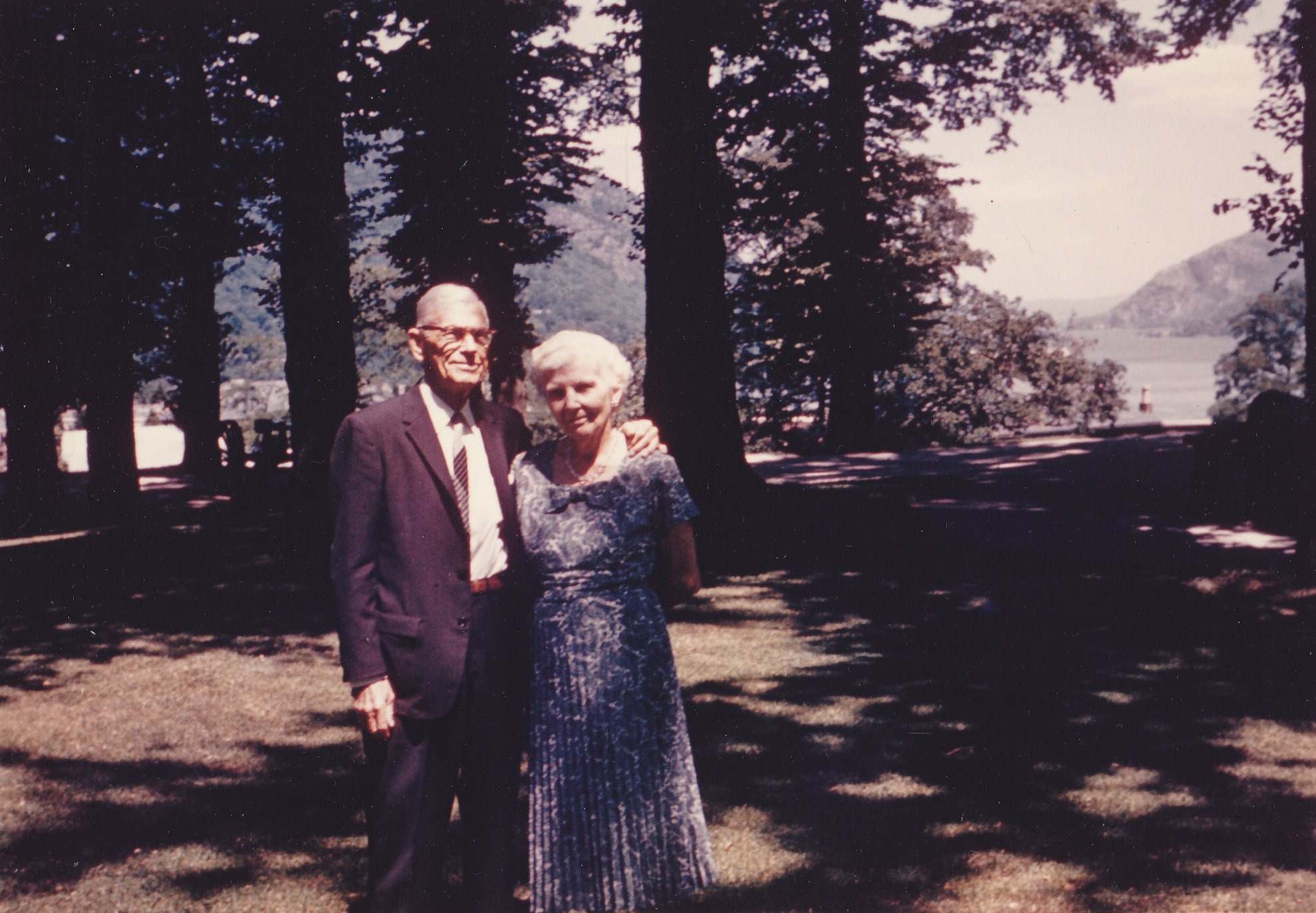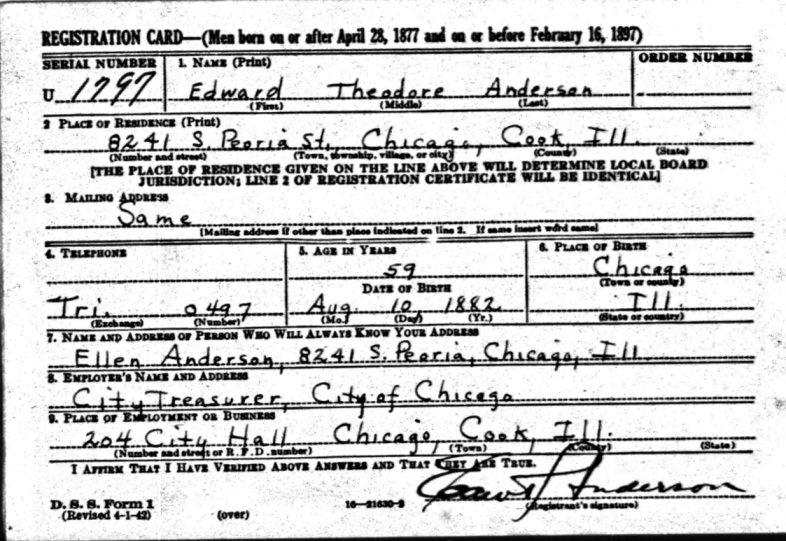 Edward Theodore Anderson draft card. World War II Draft Cards (Fourth Registration) for the State of Illinois. State Headquarters ca. 1942. NARA Publication M2097, 326 rolls. ARC ID: 623284. The National Archives at St. Louis, Missouri. U.S.A.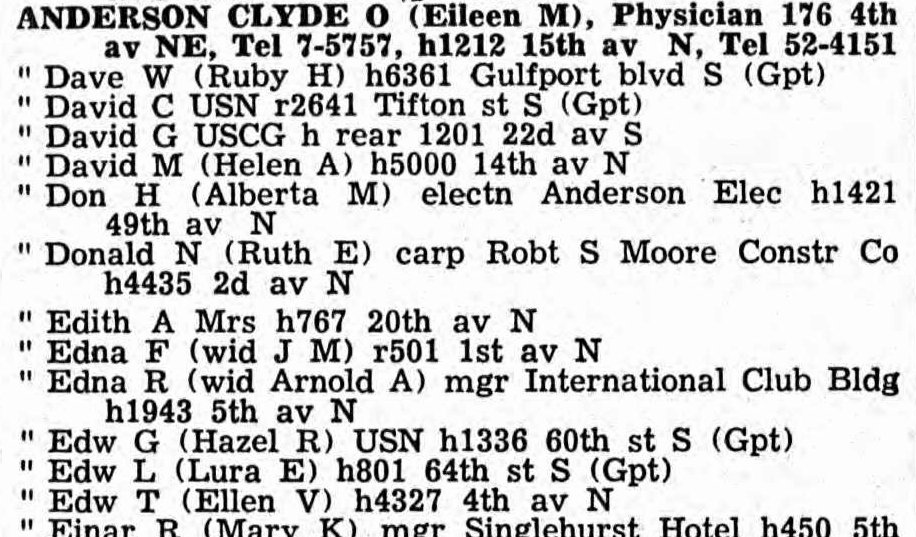 St. Petersburg, Florida city directory, 1955