The first United States census day was August 2, 1790. Heads of households were enumerated by name. The number of people in each household was recorded, and included the following categories: free white males 16 and over, free white males under 16, free white females, other free white persons, and slaves.
The census was taken in the thirteen original states (Connecticut, Delaware, Georgia, Maryland, Massachusetts, New Hampshire, New Jersey, New York, North Carolina, Pennsylvania, Rhode Island, South Carolina, and Virginia), the state of Vermont, and the districts and territories that became Kentucky, Tennessee, and Maine. Census data from Delaware, Georgia, Kentucky, New Jersey, Tennessee, and Virginia no longer survives.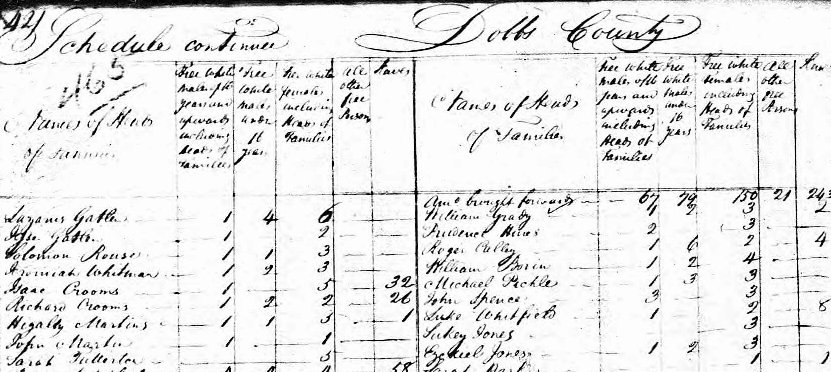 1790 United States Census, Dobbs Co., North Carolina. Series M637, roll 7, page 465, image 591.
In 1790, my 6th-great-grandfather Lazarus Gatlin's household in Dobbs County, North Carolina included 4 free white males under 16, 1 free white male 16 and over, and 6 free white females. His son Jesse Gatlin's household included 1 free white male 16 and over and 2 free white females.
References
1790 Overview
1790 United States Census
United States Census 1790