Crime ran on both sides of the family of William D. Gatlin. His paternal grandfather
William Dow Gatlin
(who he probably shared a name with; I suspect that his middle initial D stood for Dow) was tried for an ax murder. His mother's half-brother
Tom Cox
was sentenced to death for killing a police officer. William D. Gatlin never killed anyone (as far as I know), but he was frequently in trouble with the law.
William was born on 10 December 1886 in Nashville, Tennessee. He was the third child of John William Morton Gatlin and Sarah Claire "Sadie" Dyer. By 1904 he and his older brother Henry (my great-grandfather) were living together in Chicago, Illinois. Henry was working at Hazlitt Printing Company. I am not sure what William was doing, but at some point he got himself into trouble, because he was enumerated in the 1910 United States Census as a prisoner in Southern Illinois Penitentiary in Chester, Randolph County, Illinois. He had been released by 1911, when he and his brother John were in Bloomington, Indiana, where their older sister Mary Florence (Gatlin) Pate lived with her husband Downie Campbell Pate. The brothers spent time in Kentucky before going to Indiana. On 7 July 1911, William and John got into a fight. George Alexander was sitting on his front porch and tried to break up the fight. He went inside and got his gun. One of the brothers fired a revolver at George. George fired back and did not hit the men, but he was shot and seriously injured. Five police officers pursued the Gatlin brothers, and the men shot at each other. John claimed that he was the one that had shot George Alexander and asked that William be released. However, because William had a criminal record, had given a false name when arrested (he said his name was George Gatlin), and got into more trouble throughout his life than John did, I am not sure if John was telling the truth.
On 11 August 1912, William was arrested again. He stole guns, ammunition, a knife, and 36 pairs of scissors from a hardware store in Bloomington, Indiana. He then stole a horse and buggy to escape, and when he was arrested, he handed the police officers a $10 bill that he had taken from the till at the hardware store.
William was free by 5 June 1917 when he registered for the World War I draft in Chicago, Illinois, but on 16 October 1917, he was sent to Joliet Prison. On 22 September 1919, he and another prisoner, George Cechota, attempted to attack a prison guard while they were being taken back to solitary confinement. Another guard, Henry Springer, came over to help, and he shot William. Three other prisoners escaped during the conflict. William died the next day at the penitentiary hospital. He was buried in Mt. Carmel Cemetery in Hillside, Cook County, Illinois.

1910 United States Census, Chester precinct, Randolph County, Illinois, population schedule, enumeration district 101, sheet no. 4A.

Indianapolis Star, 8 July 1911

Indianapolis Star, 9 July 1911
Indianapolis Star, 12 August 1912

Chicago Daily Tribune, 24 September 1919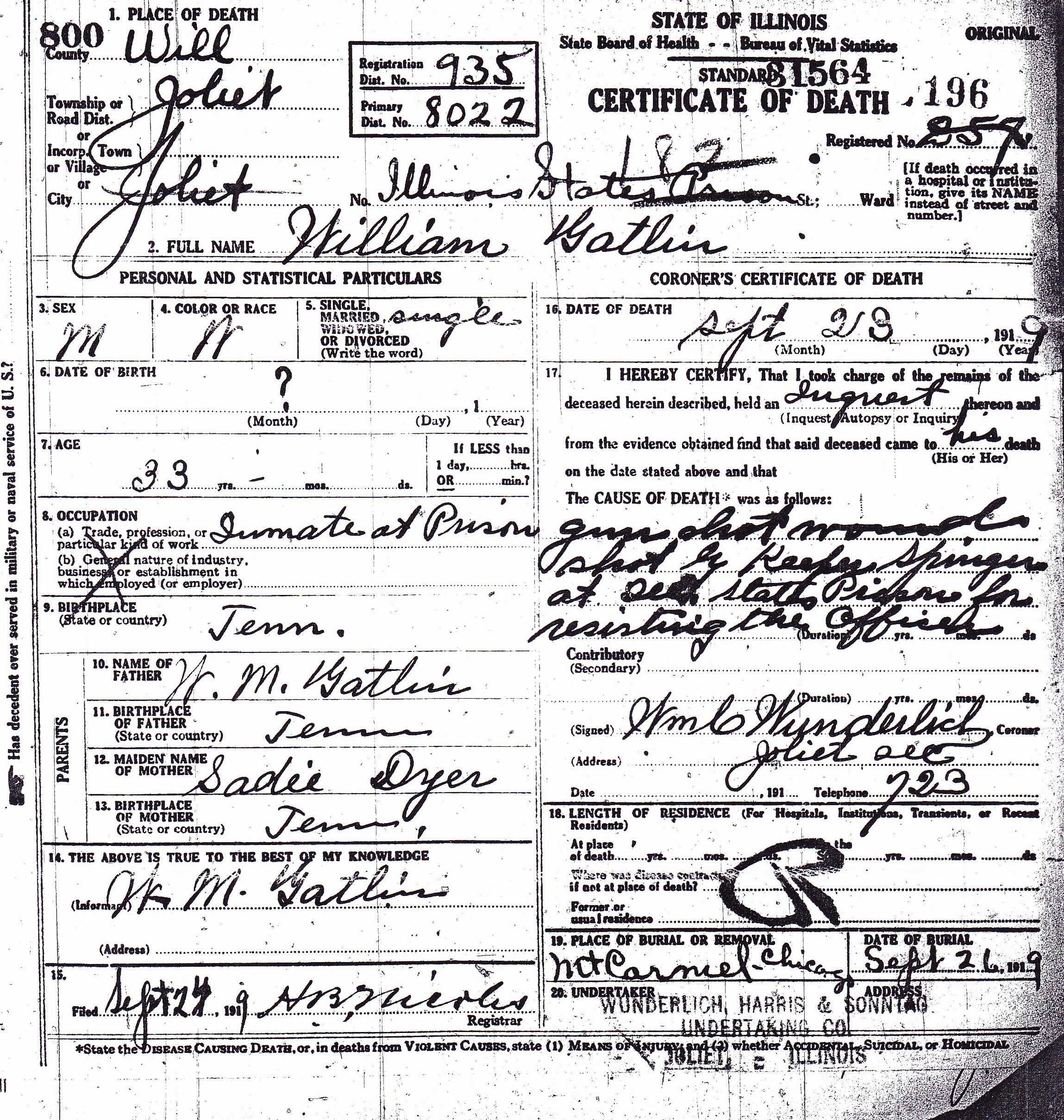 State of Illinois, State Board of Health, Bureau of Vital Statistics. Death certificate, William Gatlin. 23 September 1919.