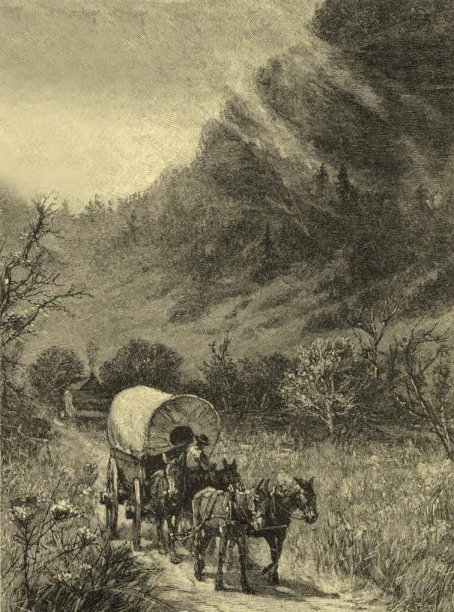 Wilderness Road. Library of Congress. Public domain. Available from Wikimedia Commons.
For more than fifty years, people traveled to Kentucky via the Wilderness Road. The road began in Virginia, looped south into Tennessee, and then veered north into Kentucky. The route was 200 miles long.
In 1775, Daniel Boone was hired by the
Transylvania Company
to widen the path through the Cumberland Gap. In less than a month, he and his company of men cut a trail from Long Island, Tennessee (now Kingsport) to Kentucky.
Travel on the road was dangerous, and most people were armed so that they could protect themselves. Native Americans sometimes attacked travelers. In 1784, more than 100 people were killed on the Kentucky side of the Cumberland Gap.
More than 200,000 settlers passed through the Cumberland Gap. For the first twenty years, the gap was too narrow for wagons to cross. Travelers had to cross by foot or on horses. In 1796, the road was widened by James Knox and
Joseph Crockett
. Conestoga wagons were then able to cross the Cumberland Gap. The route became officially known as the Wilderness Road. Around that time, my 6th-great-grandparents
Francis Hardgrave
and
Sarah (Greer) Hardgrave
and their family (including my 5th-great-grandmother
Hannah Hardgrave
) traveled from Wilkes County, North Carolina to Lincoln County, Kentucky.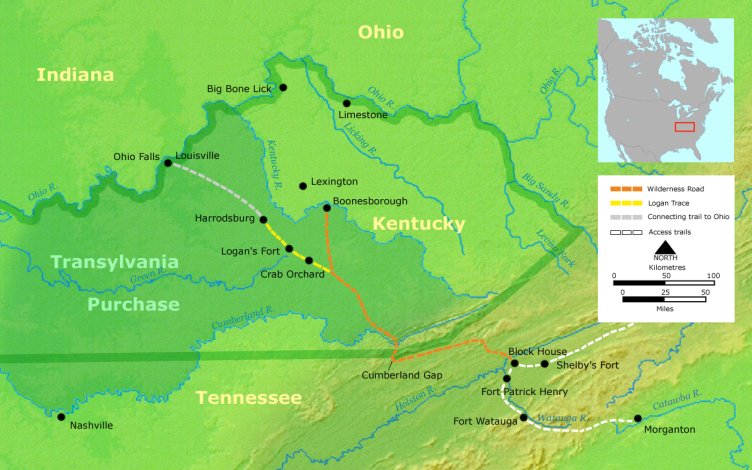 Course of the Wilderness Road. Nikater. Background map by Demis. Public domain. Available from Wikimedia Commons.
References
Cumberland Gap
Daniel Boone, 30 Woodsmen Blazed Famed 200-Mile Wilderness Road in Spring, 1775
Longfellow, Rickie.
Back in Time: The Cumberland Gap
Whitaker, Beverly (2006).
The Wilderness Road
Wilderness Road