My 6th-great-grandfather Francis Hardgrave was born on 5 March 1745 in Augusta County, Virginia. He was the son of James Hardgrave and Elizabeth Cawley. Francis married
Sarah Greer
, and the couple moved to Surry County, North Carolina about 1770. They lived near Sarah's father John Greer and other members of the Greer family. Francis was
tax assessor
for his local tax district in 1777. The area became part of Wilkes County after the county was founded in 1778.
Francis and Sarah had nine children: James (born 12 December 1772), Sarah (born 31 December 1776), Robert (born 17 October 1778), Nancy (born 6 August 1780), my 5th-great-grandmother
Hannah
(born 22 February 1782), Micajah Lewis (born 1 November 1783), Seeley (born 27 April 1786, died 23 April 1791), John (born 29 October 1787), and Skelton (born 7 May 1792).
During the American Revolution, Francis was a
captain
in the
Surry County Regiment of Militia
in 1776-1777, and was a captain in the
Wilkes County Regiment of Militia
in 1778-1780. In 1780-1781, he was a
major
in the Wilkes County Militia, under Col.
Benjamin Cleveland
. He is known to have participated in the
Cherokee Expedition
(1 August 1776-1 November 1776) and in the
Battle of Hanging Rock
(6 August 1780).
Around 1795, Francis and his family moved Lincoln County, Kentucky. In 1799, he moved to Davidson County, Tennessee. His son James and his family also moved to Tennessee and settled in nearby Williamson County. His three daughters remained in Kentucky. His daughter Sarah had married Isaac Lowe in Wilkes County, North Carolina in 1790; they lived in Barren County, Kentucky. Nancy married Archibald Mills in Lincoln County, Kentucky in 1797, and Hannah married Andrew Russell in 1799. Both couples lived in Pulaski County, Kentucky; Nancy and Archibald then moved to Wayne County, Kentucky.
Francis was a member of the Providence Baptist Church in Davidson County, Tennessee. Although he was in his sixties, Francis
served in the War of 1812
.
Francis' daughters Nancy and Hannah and their families eventually came to Tennessee as well. Nancy, by then a widow, married her husband's brother John Mills in Davidson County, Tennessee in 1820, and they settled in nearby Sumner County, Tennessee. Hannah, who was head of household by 1820, lived near her parents on land that Francis owned.
Francis died on 7 August 1828 in Davidson County, Tennessee. He is buried in the
Hardgrave Family Cemetery
in Williamson County, Tennessee. In his
will
, he left his daughter Hannah, my 5th-great-grandmother, the land that she was living on, and he stated that after she died, it was to go to her son James Russell. James Russell was Hannah's youngest son, and possibly her youngest child. Hannah appears to have been widowed by 1820, when James was only about three years old. Francis made sure that his young grandson would be provided for. He also specified that after his three daughters died, their shares of the inheritance were to be divided among the heirs of their bodies. He wanted to be sure that the inheritance passed to his daughters' descendants.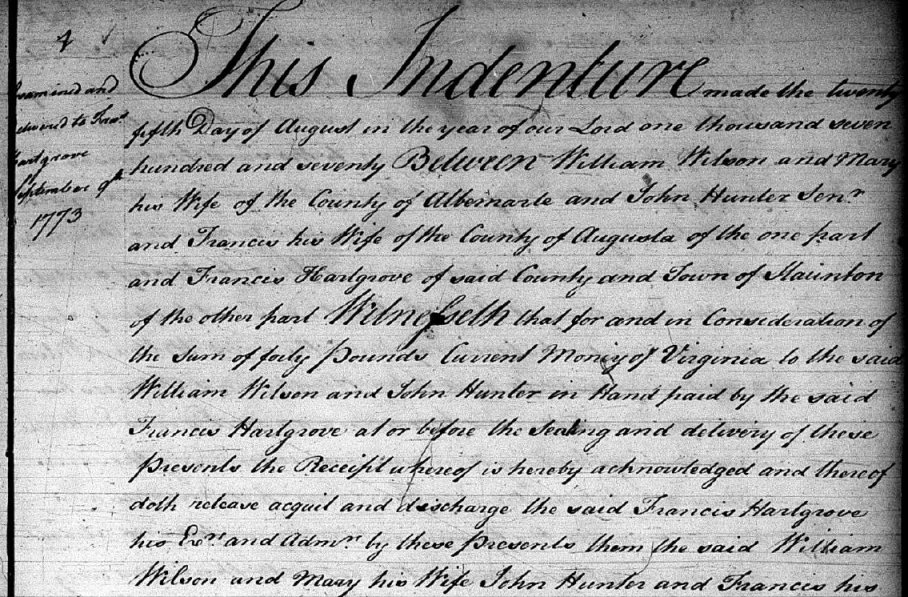 Deed, 25 August 1770. Augusta County Deed Book 17, 1770-1771. Library of Virginia, microfilm reel 9. Francis Hardgrave sold his land in Staunton, Augusta County, Virginia.

Fries, Adelaide L., ed. Records of the Moravians in North Carolina. Volume IV: 1780-1783. Raleigh, NC: Edwards & Broughton, 1930. Available from Internet Archive.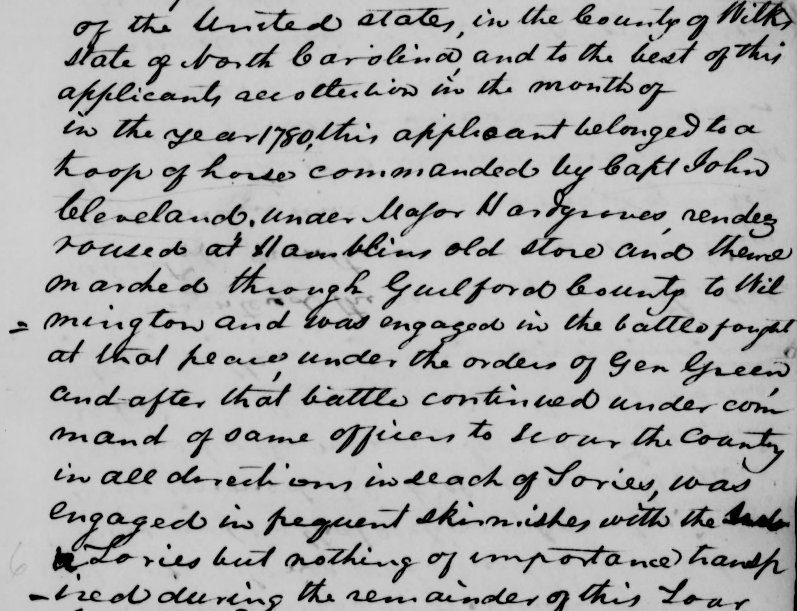 Bennet Tilley pension application file. Case Files of Pension and Bounty-Land Warrant Applications Based on Revolutionary War Service. NARA microfilm publication M804. The National Archives at Washington, D.C. Available from Fold3.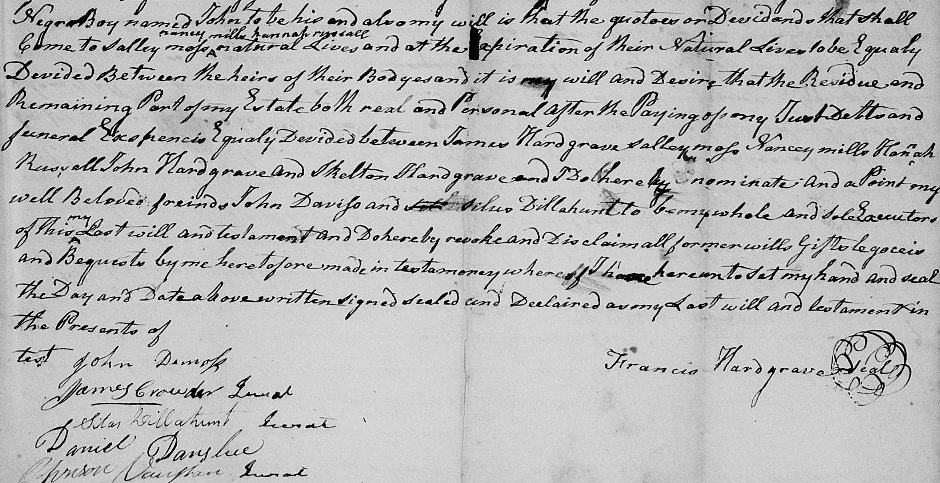 Will of Francis Hardgrave, Davidson County, Tennessee, Will Book No. 9. Available from FamilySearch.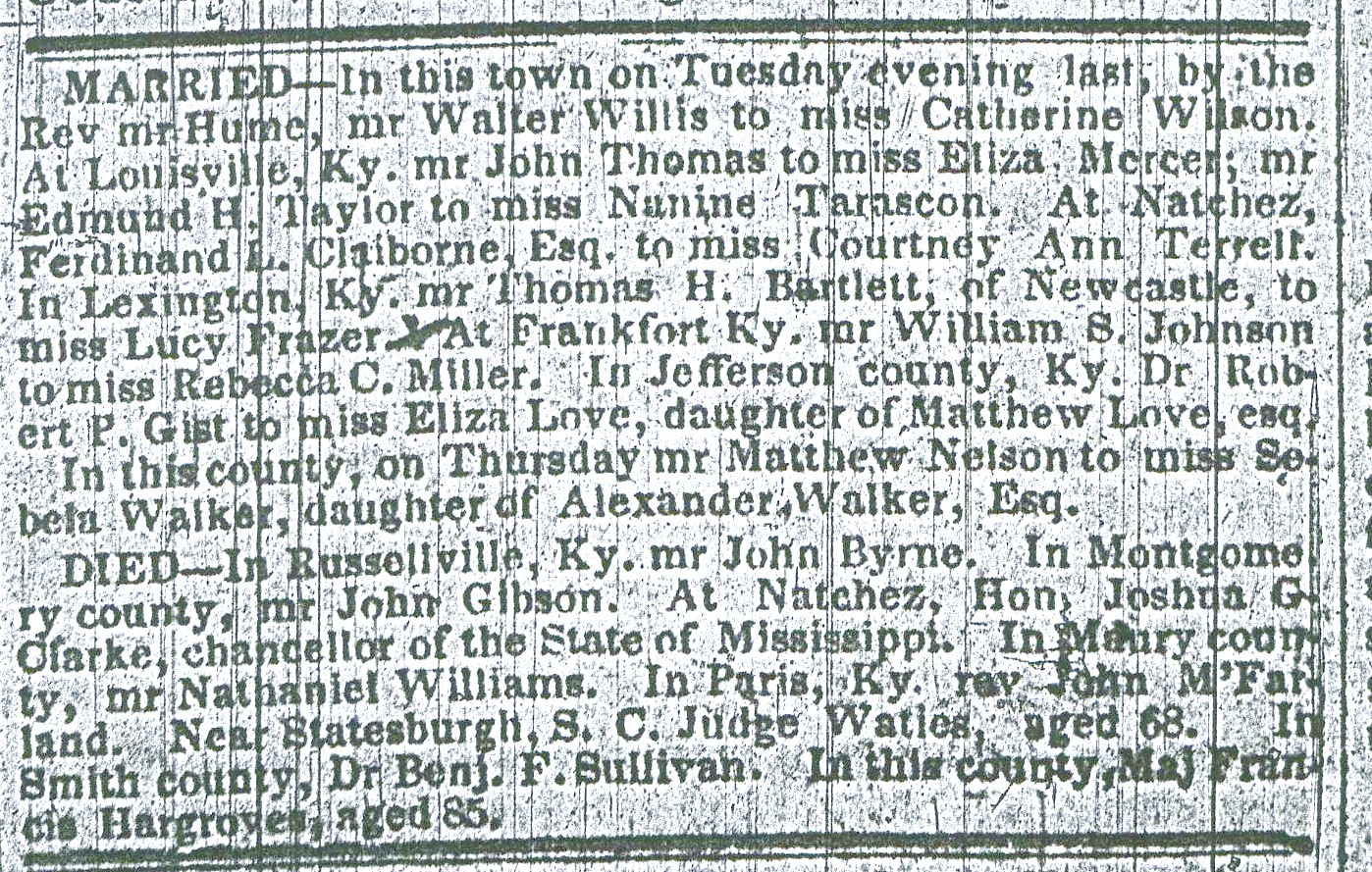 Nashville Banner and Nashville Whig, 9 August 1828