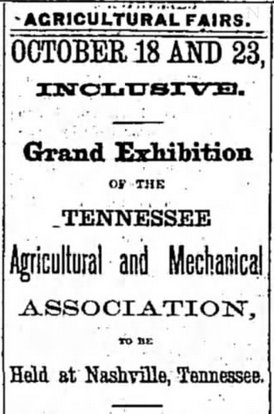 Republican Banner, 12 October 1869, page 3
The Tennessee Agricultural and Mechanical Association held a fair in Nashville on 18-23 October 1869. On the last day, there was a shooting in the amphitheater.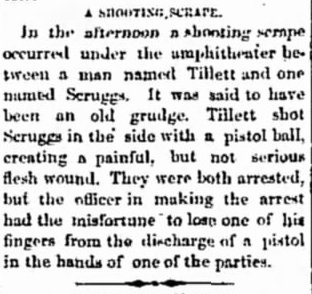 Republican Banner, 24 October 1869, page 1
Although the Republican Banner reported that Tillett shot Scruggs, Edward Scruggs actually shot
William Tillett
. The wound was apparently serious enough to get Scruggs charged with attempted murder. Scruggs' trial began on 3 December 1869.

Nashville Union and American, 4 December 1869, page 1
My 3rd-great-grandfather
Joseph Tarkington
testified at the trial. He was listed in the newspaper as Joseph Sarkinton, but I cannot find any other evidence of the existence of a Joseph Sarkinton. William Tillett knew Joseph Tarkington for almost his entire life, and I think they were related (William Tillett was the great-grandson of
William Tarkington
). Even if Joseph Tarkington's testimony was similar to that of William Tillett and Sawyers (presumably Willis), I still wish more details about it had been published in the newspaper.
Edward Scruggs was convicted and sentenced to three years in the penitentiary, but a motion to continue was made.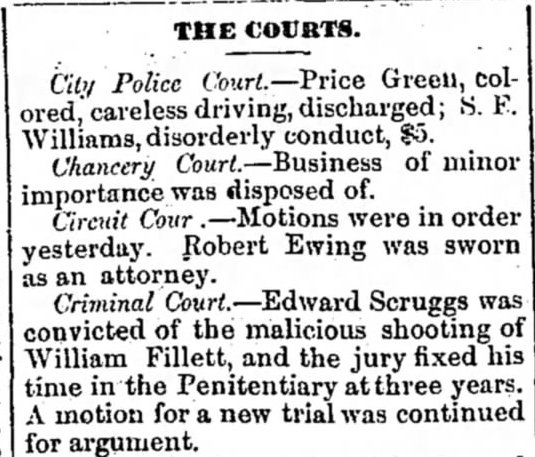 Republican Banner, 20 February 1870, page 4
On 30 March 1870, the motion for a new trial was argued.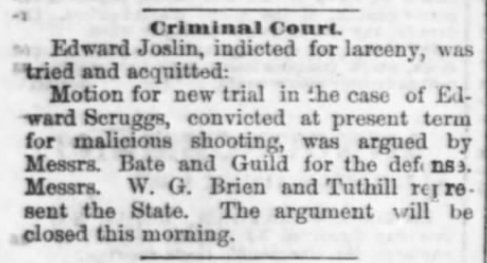 Nashville Union and American, 30 March 1870, page 4
On 6 May 1870, as Edward Scruggs was riding home, someone shot at him. Although he was wounded near his knee, it was just a flesh wound.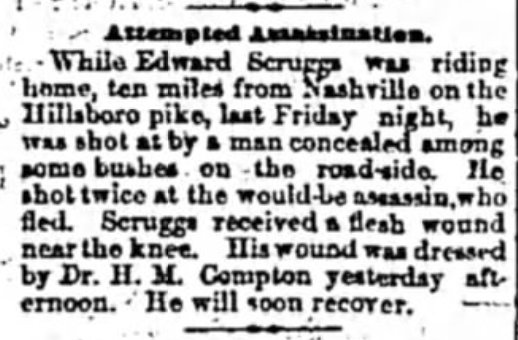 Republican Banner, 8 May 1870, page 4
I wonder if this shooting was related to William Tillett's shooting. Perhaps someone wanted revenge.
In September 1870, the prosecutor dismissed the charges against Edward Scruggs.

Republican Banner, 8 September 1870, page 4