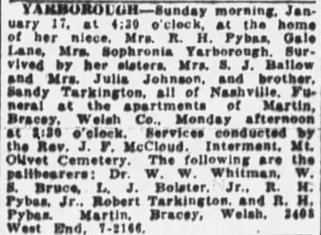 Nashville Tennessean, 18 January 1937, page 2
YARBOROUGH
––Sunday morning , January 17, at 4:30 o'clock at the home of her niece, Mrs. R. H. Pybas, Gale Lane, Mrs. Sophronia Yarborough. Survived by her sisters, Mrs. S. J. Ballow and Mrs. Julia Johnson, and her brother, Sandy Tarkington, all of Nashville. Funeral at the apartments of Martin, Bracey, Welsh Co., Monday afternoon at 3:30 o'clock. Services conducted by the Rev. J. F. McCloud. Interment, Mt. Olivet Cemetery. The following are the pallbearers: Dr. W. W. Whitman, W. S. Bruce, L. J. Bolster. Jr., R. H. Pybas, Jr., Robert Tarkington, and R. H. Pybas. Martin, Bracey, Welsh, 2408 West End, 7-2166.
Adeline Sophronia Tarkington was born in Tennessee on 7 July 1870. She was the daughter of my 3rd-great-grandparents
Joseph Tarkington
and
Amanda Russell
. She worked as a
telephone operator
. She married Thomas Jefferson Yarbrough on 11 December 1906 in Hamilton County, Tennessee. Her husband died on 28 July 1931. Sophronia died in Nashville on 17 January 1937.