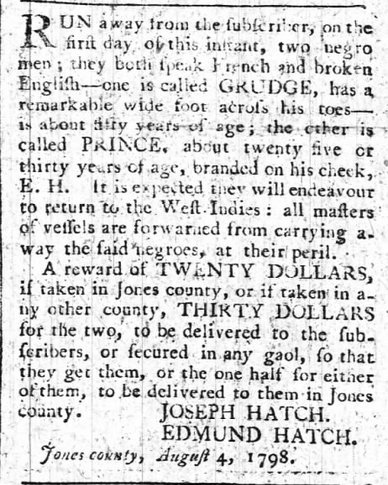 Newbern Gazette, 25 August 1798, page 3
RUN away from the subscriber, on the first day of this instant, two negro men ; they both speak French and broken English––one is called GRUDGE, has a remarkable wide foot across his toes––is about fifty years of age ; the other is called PRINCE, about twenty-five or thirty years of age, branded on his cheek, E. H. It is expected they will endeavour to return to the West Indies : all masters of vessels are forwarned from carrying away the said negroes, at their peril.
A reward of TWENTY DOLLARS, if taken in Jones county, or if taken in any other county, THIRTY DOLLARS for the two, to be delivered to the subscribers, or secured in any gaol, so that they get them, or the one half for either of them, to be delivered to them in Jones county.
JOSEPH HATCH.
EDMUND HATCH.
Jones county, August
4, 1798.