Mary Nevins Gatlin was born on 30 May 1895 in Nashville, Tennessee. She was the daughter of my 2nd-great-grandfather's brother
Clarence Bateman Gatlin
and Ella Lee. She was named after her paternal grandmother, my 3rd-great-grandmother
Mary Nevins
.

Nashville, Tennessee city birth records, May 30-31, 1895. Ancestry.com. Tennessee, City Birth Records, 1881-1915 [database on-line]. Provo, UT, USA: Ancestry.com Operations, Inc., 2012. Original data: City Birth Records. Nashville, Tennessee: Tennessee State Library and Archives.
Mary died on 13 April 1900, a month and a half before her fifth birthday.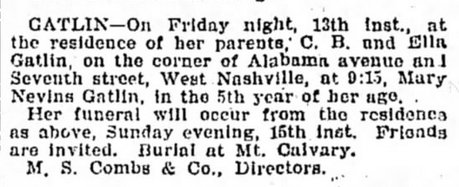 Nashville American, 14 April 1900, page 2

Nashville American, 17 April 1900, page 3
Clarence's brother-in-law John Bailey came from Bowling Green, Kentucky for the funeral. His wife, Clarence's sister Lillie May (Gatlin) Bailey, and their daughter
Mary Elizabeth Bailey
probably came with him.

Nashville American, 19 April 1900, page 3