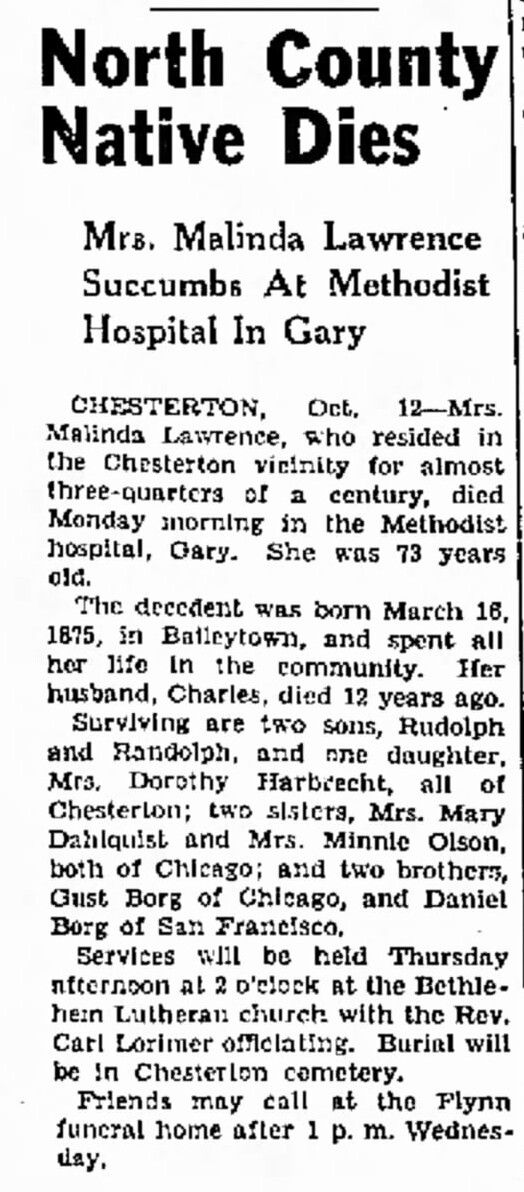 Vidette-Messenger, 12 October 1948, page 1
CHESTERTON, Oct. 12–Mrs. Malinda Lawrence, who resided in the Chesterton vicinity for almost three-quarters of a century, died Monday morning in the Methodist hospital, Gary. She was 73 years old.
The decedent was born March 16, 1875 in Baileytown, and spent all her life in the community. Her husband, Charles, died 12 years ago.
Surviving are two sons, Rudolph and Randolph, and one daughter, Mrs. Dorothy Harbrecht, all of Chesterton; two sisters, Mrs. Mary Dahlquist and Mrs. Minnie Olson, both of Chicago; and two brothers, Gust Borg of Chicago, and Daniel Borg of San Francisco.
Services will be held Thursday afternoon at 2 o'clock at the Bethlehem Lutheran church with the Rev. Carl Lorimer officiating. Burial will be in Chesterton cemetery.
Friends may call at the Flynn funeral home after 1 p.m. Wednesday.
Malinda was the daughter of my 3rd-great-granparents John Borg and Johanna Carolina Samuelson. She married Charles August Lawrence on 28 November 1900 in Chesterton, Porter County, Indiana. They had three children: Elmer Rudolph (born 8 February 1903), Dorothy F. (born 31 March 1905), and Edward Randolph (born 3 November 1908). Her husband Charles died on 21 December 1936. Malinda died on 11 October 1948 in Gary, Lake County, Indiana.