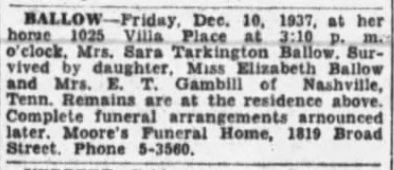 Nashville Tennessean, 11 December 1937, page 22
BALLOW
––Friday, Dec. 10, 1937 at her home 1025 Villa Place at 3:10 p.m. o'clock, Mrs. Sara Tarkington Ballow. Survived by daughter, Miss Elizabeth Ballow and Mrs. E. T. Gambill of Nashville, Tenn. Remains are at the residence above. Complete funeral arrangements announced later. Moore's Funeral Hime, 1819 Broad Street. Phone 5-3560.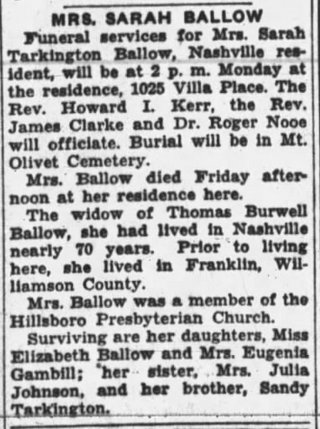 Nashville Tennessean, 12 December 1937, page 21
MRS. SARAH BALLOW
Funeral services for Mrs. Sarah Tarkington Ballow, Nashville resident, will be at 2 p.m. Monday at the residence, 1025 Villa Place. The Rev. Howard I. Kerr, the Rev. James Clarke and Dr. Roger Nooe will officiate. Burial will be in Mt. Olivet Cemetery.
Mrs. Ballow died Friday afternoon at her residence here.
The widow of Thomas Burwell Ballow, she had lived in Nashville nearly 70 years. Prior to living here, she lived in Franklin, Williamson County.
Mrs. Ballow was a member of the Hillsboro Presbyterian Church.
Surviving are her daughters, Miss Elizabeth Ballow and Mrs. Eugenia Gambill; her sister, Mrs. Julia Johnson, and her brother, Sandy Tarkington.
Sarah Jane "Sallie" Tarkington was born on 13 August 1857 in Williamson County, Tennessee. She was the daughter of my 3rd-great-grandparents
Joseph Tarkington
and
Amanda Russell
. Sarah married
Thomas Burwell Ballow
on 13 October 1885 in Davidson County, Tennessee. They had a son, Thomas Burwell Ballow (born 23 March 1895), and a daughter, Elizabeth Fort Ballow (born 2 October 1899). Eugenia Gambill was Sarah's stepdaughter. Her husband Thomas died on 1 November 1904. Her son Thomas died on 20 September 1935. Sarah died on 10 December 1937 and was buried on 13 December 1937.