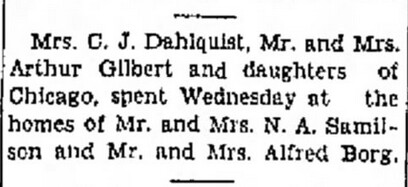 Vidette-Messenger, 29 May 1931, page 4
On 27 May 1931,
Marie Louise (Borg) Dahlquist
, her daughter
Juliet (Dahlquist) Gilbert
, her son-in-law
Fritz Arthur Gilbert
, and her granddaughters Lois and Joyce Gilbert traveled from Chicago, Illinois to Porter County, Indiana. They visited Marie's sister
Clara Matilda (Borg) Samuelson
and brother-in-law
Nels A. Samuelson
. They also visited Marie's brother
Alfred Borg
and sister-in-law
Emily (Chellberg) Borg
.