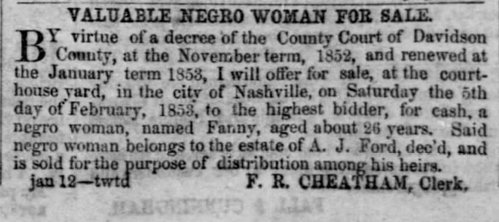 Nashville Union, 20 January 1853, page 3
VALUABLE NEGRO WOMAN FOR SALE.
BY virtue of a decree of the County Court of Davidson County, at the November term, 1852, and renewed at the January term 1853, I will offer for sale, at the courthouse yard, in the city of Nashville, on Saturday the 5th day of February, 1853, to the highest bidder, for cash, a negro woman, named Fanny, age about 26 years. Said negro woman belongs to the estate of A. J. Ford, dec'd, and is sold for the purpose of distribution among his heirs.
jan12t
–
–
wtd F.R. CHEATHAM, Clerk.