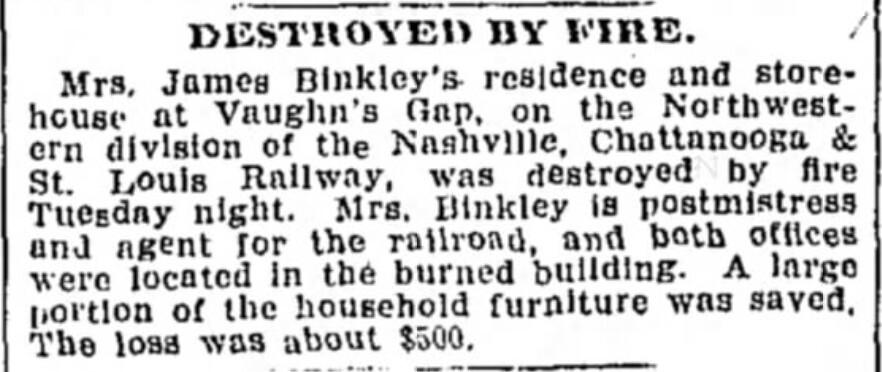 Nashville American, 6 June 1901, page 2
On 4 June 1901, a fire broke out in Vaughn's Gap, Davidson County, Tennessee, at the home of Clementine Virginia (Leech) Binkley. The building also contained a post office and a ticket office for the Northwestern division of the Nashville, Chattanooga & St. Louis Railway. Clementine Virginia was the widow of James Rutherford Binkley, my 2nd-great-grandmother Anna Malvina (Binkley) Tarkington's brother. She worked as postmistress and ticket agent for the Nashville, Chattanooga & St. Louis Railway. She was also raising her two sons, James Banks Binkley and Burl Turner Binkley. At the time of the fire, James was sixteen and Burl was almost twelve.
Fortunately, much of the furniture was saved. She also had family living nearby, and they probably helped her and her sons through this difficult time. The 1900 U.S. Census shows that she was living near her mother-in-law Angeline (Mayo) Binkley; her sister-in-law Anna Malvina (Binkley) Tarkington; Malvina's children Viola,
Gertrude
, and Robert Tarkington; her brother Patrick Henry Leech; Henry's wife (and Malvina's daughter) Laura Belle (Tarkington) Leech; and their children John,
Nina
, and Henry. [Note that Virginia's son James B. Binkley's age is recorded incorrectly; perhaps the census taker wrote down that he was 17 and later misread the number as 7.]

1900 United States Census, Civil District 14, Davidson County, Tennessee, population schedule, enumeration district 130, sheet no. 11A. Ancestry.com. 1900 United States Federal Census [database on-line]. Provo, UT, USA: Ancestry.com Operations Inc, 2004.