Ingebor Halvorsdatter Sønstebø was born on 29 July 1794 in Bø, Telemark, Norway. She was the daughter of my 5th-great-grandparents Halvor Eriksen Sønstebø and Kari Jorgensdatter Grave.

Telemark county, Bø, Parish register (official) nr. 5 (1785-1815), Chronological list 1794, page 79. http://www.arkivverket.no/URN:NBN:no-a1450-kb20061208060259.jpg
Ingebor died less than two years later, on 28 May 1796.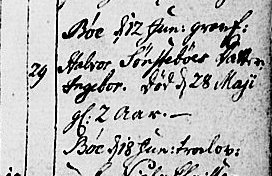 Telemark county, Bø, Parish register (official) nr. 5 (1785-1815), Chronological list 1796, page 95. http://www.arkivverket.no/URN:NBN:no-a1450-kb20061208060267.jpg