My 5th-great-grandparents Halvor Eriksen Sønstebø and Kari Jorgensdatter Grave became the parents of a son, Claus, on 6 May 1792 in Bø, Telemark, Norway.

Telemark county, Bø, Parish register (official) nr. 5 (1785-1815), Chronological list 1792, page 59. http://www.arkivverket.no/URN:NBN:no-a1450-kb20061208060249.jpg
Claus died in March 1798 (I think the record says that he died on the 7th) in Bø, two months before his sixth birthday.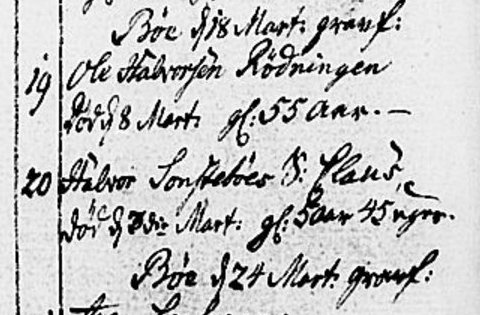 Telemark county, Bø, Parish register (official) nr. 5 (1785-1815), Chronological list 1798, page 112. http://www.arkivverket.no/URN:NBN:no-a1450-kb20061208060276.jpg