On 13 December 1897, my
2nd-great-grandmother
's half-brother
Tom Cox
was arrested for assault. He had gone to Jessie Shivers' "house of ill fame" at 613 Line Street, Nashville, Tennessee on Saturday, 11 December 1897. Line Street was the center of Nashville's red-light district. Jessie Shivers claimed that Tom had threatened to kill her and the other residents of the house, and that he had hit her hands with a pistol and broken her ring.
Tom had gone to 613 Line Street to rescue his sister
Nellie
. She had run away from home and had ended up at Jessie Shivers' house. Tom explained his reasons for coming to the house, but was refused entry. Nellie escaped out a window after hearing Tom's voice.
The officer that had been called to the scene, Patrolman Bergin, testified that he had not found a pistol when he searched Tom. Judge Anderson dismissed the case against Tom.
Tom was frequently in trouble with the law. It seems believable that he would have been carrying a pistol. But whether he was or not, he also seems to have been trying to look out for his sister. Since Nellie escaped when she had the chance, she apparently wanted to leave Jessie Shivers' house.
References
"He Was Not in the Wrong."
Nashville American
, 15 December 1897, p. 5.
"She Prefers Charges."
Nashville American
, 14 December 1897, p. 5.
Wills, Ridley.
Nashville Streets and Their Stories
. Franklin, TN: Plumbline Media, 2012.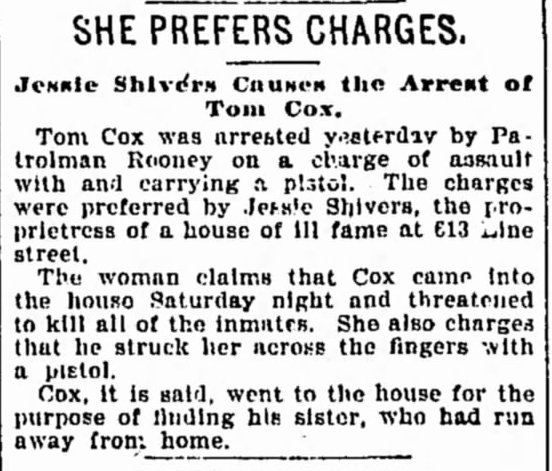 Nashville American, 14 December 1897, page 5

Nashville American, 15 December 1897, page 5