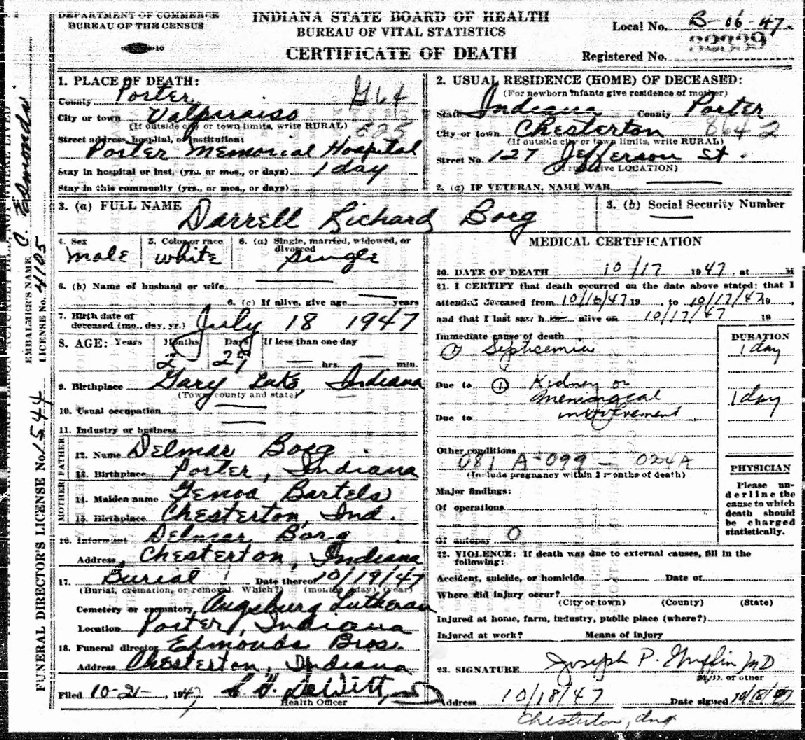 Indiana State Board of Health. Bureau of Vital Statistics. Death certificate, Darrell Richard Borg, 1947. Ancestry.com. Indiana, Death Certificates, 1899-2011 [database on-line]. Provo, UT, USA: Ancestry.com Operations, Inc., 2015. Original data: Indiana State Board of Health. Death Certificates, 1900–2011. Microfilm. Indiana Archives and Records Administration, Indianapolis, Indiana.
Darrell Richard Borg was born in Gary, Lake County, Indiana on 18 July 1947. He was the son of my first cousin 3 times removed
Delmar Emil Borg
and Genoa L. Bartels. He died in Porter Memorial Hospital in Valparaiso, Porter County, Indiana on 17 October 1947. The cause of death was septicemia due to kidney or meningeal involvement. He was buried in Augsburg Lutheran Church Cemetery in Porter, Porter County, Indiana on 19 October 1947.