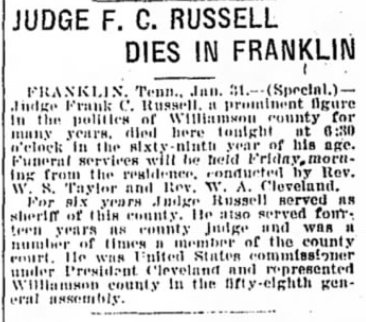 Nashville Tennessean and Nashville American, 1 February 1917, page 3
JUDGE F. C. RUSSELL
DIES IN FRANKLIN
FRANKLIN, Tenn., Jan. 31––(Special.)––Judge Frank C. Russell, a prominent figure in the politics of Williamson county for many years, died here tonight at 6:3- o'clock in the sixty-ninth year of his age. Funeral services will be held Friday morning from the residence, conducted by Rev. W. S. Taylor and Rev. W. A. Cleveland.
For six years Judge Russell served as sheriff of this county. He also served fourteen years as county judge and was a number of times a member of the county court. He was United States commissioner under President Cleveland and represented Williamson county in the fifty-eighth general assembly.
Francis C. "Frank" Russell was born on 15 February 1848 in Davidson County, Tennessee. He was the son of my
4th-great-grandmother
's brother James Russell and
Miriam Hill
. He married Sarah Ann Givens on 8 January 1885 in Williamson County, Tennessee. Their son Skelton Givens Russell was born on 3 November 1885. Their second son, Frank Russell, was born about 1887, but died on 4 September 1899. Frank died on 31 January 1917 in Franklin, Williamson County, Tennessee.