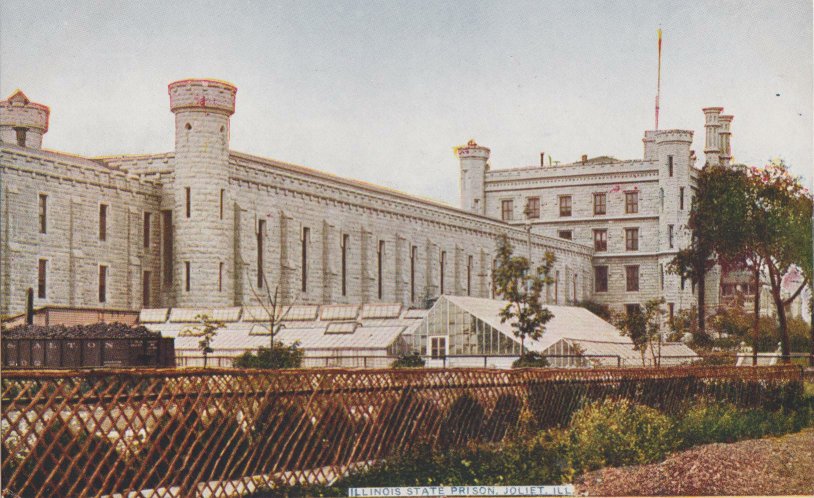 Illinois State Penitentiary was the original name for Joliet Correctional Center in Joliet, Will County, Illinois. It was in existence from 1858 to 2002.
The penitentiary was built with convict labor. In May 1858, thirty-three prisoners arrived from Alton to begin construction. Prison transfers were completed in July 1860.
From the 1870s onward, the penitentiary had work contracts with businesses in the area.
According to the
Joliet Prison Post,
vol. 1 no. 2 (1914), the inmates at the penitentiary were classified into three grades, which would determine the privileges that they were allowed. Prisoners in the first grade could write letters and have visitors once a week. Prisoners in the second grade were allowed to write and have visitors once every two weeks. Incoming prisoners were placed in the second grade upon arrival, and would be moved to the first grade after thirty days if their conduct was good. The third grade was for "willful offenders against the prison discipline" (p. 57). These prisoners could only write letters and have visitors once every four weeks, and could not go into the yard for recreation.
My
great-grandfather
's brother
William D. Gatlin
was sent to the Illinois State Penitentiary on 16 October 1917 to serve a sentence of one to fourteen years for robbery. He died there on 23 September 1919. He was shot by Henry Springer, a guard at the Illinois State Penitentiary, after refusing to obey orders. The incident occurred when William was being taken back to solitary confinement. William must have been in the third grade!
References
Joliet Correctional Center
Joliet Prison Post, Volume 1, Issue 2, 1914