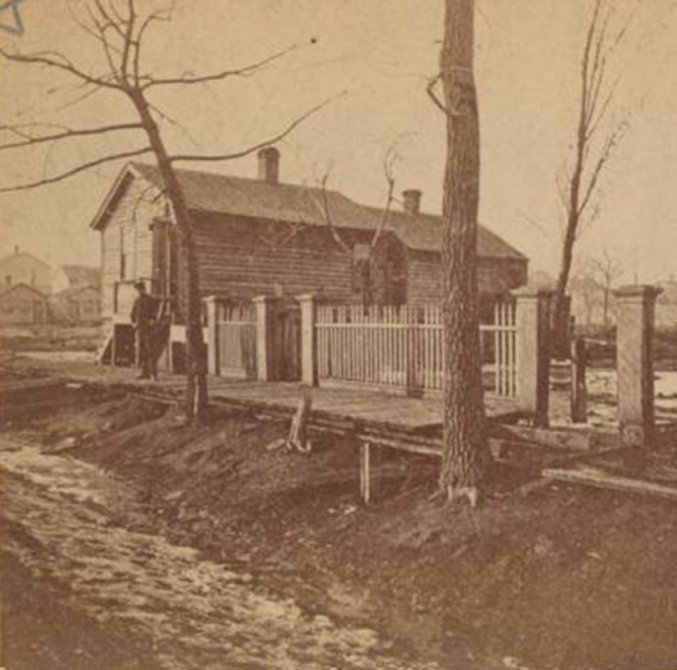 Catherine O'Leary's cottage on DeKoven Street in Chicago, 1871. By A.H. Abbott, Photographer (Stereoptican card) [Public domain]. Available from Wikimedia Commons.
Conley's Patch was a poor shantytown in Chicago, Illinois that was built by Irish immigrants in the 1850s. Monroe and Wells Streets were at the center of the neighborhood. The
Encyclopedia of Chicago
calls Conley's Patch the most notorious of the communities of boardinghouses and saloons. The community was known for its high crime rate as well as its poverty. The majority of the saloons, houses of prostitution, and gambling dens were located in Conley's Patch. Macaulay (2007) reported that only four percent of Conley's Patch residents were homeowners.
From 1858 to 1868, Roger Plant ran brothels on the northeast corner of Monroe and Wells Streets. The area was called "Under the Willow" because of the willow tree on the corner. It was also known as "Roger's Barracks." It was considered to be the center of corruption in the city.
Patrick and Catherine O'Leary's residence on 137 DeKoven Street, at the corner of Jefferson Street, was in the vicinity as well. 144 years ago today, on 8 October 1871, a fire started in the O'Learys' barn. It spread rapidly, resulting in the
Great Chicago Fire
.
My 3rd-great-grandparents
John Bennet Winters
and
Anna "Ann" (Walker) Winters
and their daughter, my 2nd-great-grandmother
Catherine Elizabeth Winters
, moved to Chicago in the mid-1860s. They lived at 247 S. Jefferson, where John ran a grocery store. His business failed in 1871, and he applied for a free peddler's license. His petition was granted in June 1871. They lived at the edge of the district that was burned by the Great Chicago Fire, and probably had to move as a result. They were not listed in the city directory that was published after the fire.
According to
Gangland Chicago: Criminality and Lawlessness in the Windy City, 1837-1990
, Catherine O'Leary was "the milk woman of Conley's Patch" and sold milk to the neighbors who lived on Jefferson Street. Perhaps the Winters family knew her.
References
The Chicago Crime Scenes Project: Monroe Street
The Chicago Crime Scenes Project: Under the Willow
Lindberg, Richard.
Gangland Chicago: Criminality and Lawlessness in the Windy City, 1837-1990
. Lanham, MD: Rownan & Littlefield, 2016.
Macaulay, Dendy.
The Importance of Neighborhood Ties: Relocation Decisions After the Chicago Fire of 1871
. Diss. University of Chicago, 2007.
Mack, Edwin F.
Old Monroe Street: Notes on the Monroe Street of Early Chicago Days
. Chicago: Central Trust Company of Illinois, 1914. Available from
Internet Archive
.
"Multicentered Chicago."
Encyclopedia of Chicago
. Ed. James R. Grossman, Ann Durkin Keating, and Janice L. Reiff. Chicago: University of Chicago Press, 2004. 548-553.
Sawislak, Karen.
Smoldering City: Chicagoans and the Great Fire, 1871-1874
. Chicago: University of Chicago Press, 1995.