A year after the death of Rosina and John Troedson, my 2nd-great-grandfather's brother
Ola Peter Troedson
and his children placed this notice in the
Telegraph
(Brisbane, Queensland, Australia):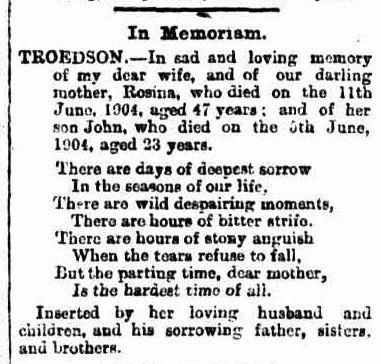 The Telegraph, 10 June 1905, page 6
Rosina Catharine Louise Walter was born on 4 December 1856 in Pfedelbach, Hohenlohekreis, Württemberg, Germany. She was the daughter of Christoph Walter and Anna Christina Zendler. In 1865, Rosina and her parents and siblings sailed from Hamburg, Germany to Australia and settled in Queensland. On 20 August 1878 in Queensland, she married Ola Peter Troedson. They had nine children. Rosina died in Brisbane, Queensland, Australia on 11 June 1904.
Rosina and Ola Peter's son John Frederick Troedson was born on 17 July 1881 in Brisbane. He died on 5 June 1904, a little over a month before what would have been his 23rd birthday.