My aunt Joan has many wonderful family documents that she let me scan. Mixed in with the family photos and documents, I found this clipping: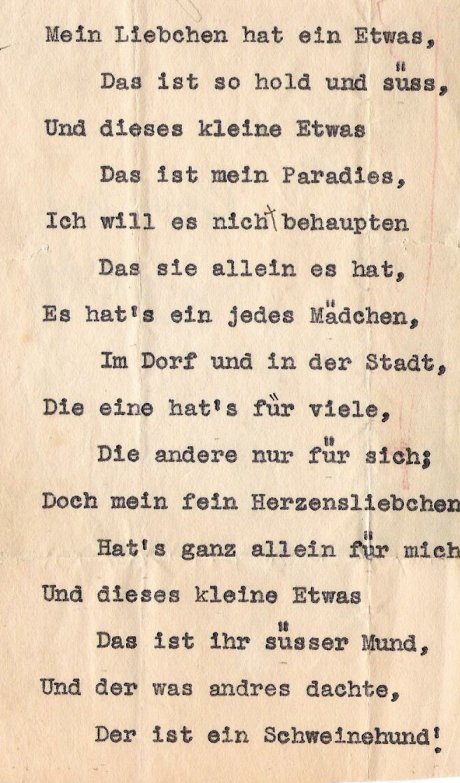 I did some research and found that it is an erotic folk song from Germany. I have seen several different titles for this song.
The Book of a Thousand Laughs
by O. U. Schweinickle calls it "
Mein Liebchen
."
Midistern
calls it "
Das kleine Etwas
." In a variant form, the third to last line ends with "Rosenmund" instead of "süsser Mund." Wikisource calls it "
Das Paradies,
"and
Volksliederarkiv
calls it "
Mein Liebchen hat ein Etwas
."
Comparing the text of the clipping with the text on the Web sites, there seems to be a typographical error in the second to last line. It should read "Und wer was andres dachte." It is also possible that the person who typed the clipping remembered that lyric incorrectly.
Schweinehund
literally means pig dog, but is used as a term of offense. A
post from KrautBlog
elaborates further on the term.
Finding this clipping and researching it has given me additional insights into my German ancestors' culture.