A gendarmerie is a paramilitary police force. France's National Gendarmerie (
Gendarmerie nationale
) was created on 16 February 1791, when the
Maréchaussée Royale
was renamed. During the French Revolution, the gendarmerie was an auxiliary to France's National Guard. Small brigades of the gendarmerie were spread out over France. The gendarmes (men in the gendarmerie) were usually mounted. They were housed in barracks. The brigades formed companies, which covered departments. The companies formed squadrons, and squadrons formed legions.
As Napoleon conquered areas of Europe, the gendarmerie spread. It was introduced in the Rhineland region of Germany in 1798. By 1809, there were 15,500 men in the gendarmerie; 527 of them were in the Rhineland. The 25th gendarmerie legion consisted of four departments in the Rhineland, which were located in Köln (Cologne), Koblenz, Mainz, and Trier. The departments were patrolled by two squadrons. The gendarmes searched for draft dodgers and deserters. Mayors, prefects, and sub-prefects could call on them if they anticipated disorder in their communities. Approximately one quarter of the men were local; the others were French, but were supposed to know German.
On 20 December 1808, the French troops left the Rhineland. However, the gendarmerie continued. The remaining gendarmes served the Grand Duchy of Hesse-Darmstadt.
My 4th-great-grandfather Nikolaus Schneider was a gendarme. He was born about 1777 in
Düngenheim, Cochem-Zell, Rheinland-Pfalz (Rhineland-Palatinate), Germany. When he married in 1818, he was a gendarme stationed in Koblenz.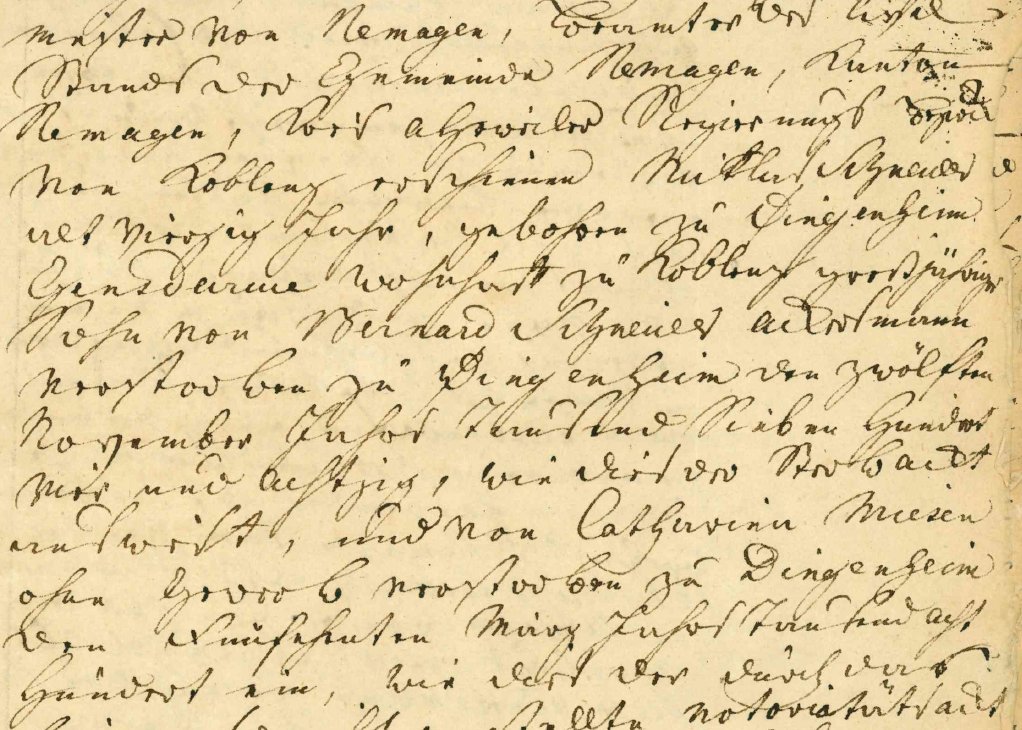 Excerpt from the marriage record of Nikolaus Schneider and Anna Maria Fasbender, 6 January 1818. Remagen, Ahrweiler, Rheinland-Pfalz. Stadtarchiv Remagen.

Excerpt from the death record of Nikolaus Schneider, 7 November 1835.

Remagen, Ahrweiler, Rheinland-Pfalz. Stadtarchiv Remagen.
His profession was "Standes preußischer Gendarm" (former Prussian gendarme).

Koblenz (Regierungsbezirk). Amtsblatt der Preußischen Regierung zu Koblenz: Jahrgang 1817. Section on security and police from the official journal of the Prussian government to Koblenz, 1817. Page 95. Available from Google Books.
References
Broers, Michael.
The Napoleonic Police and their Legacy
Gendarmerie
National Gendarmerie
Polizei Rheinland-Pfalz - Geschichte der Polizei
Rowe, Michael.
From Reich to State: The Rhineland in the Revolutionary Age, 1780-1830
. New York: Cambridge University Press, 2003.