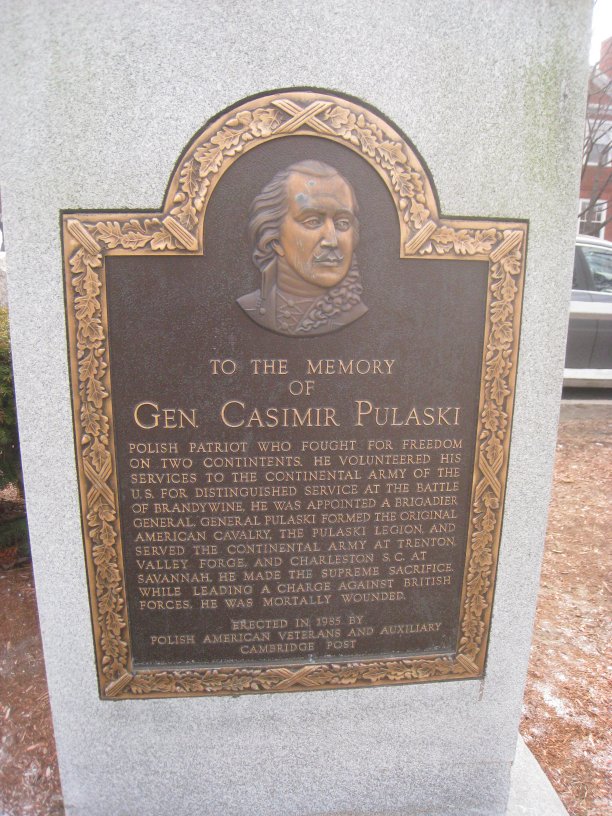 General Casimir Pulaski plaque, Cambridge Commons, Cambridge, Massachusetts. Photo by Daderot (Own work) [Public domain], 14 February 2010. Available from Wikimedia Commons.
October 11 is General Pulaski Memorial Day, in honor of Casimir (Kazimierz) Pulaski. In 1929, Congress passed a resolution designating October 11 as General Pulaski Memorial Day. Since 1931, a presidential proclamation has been issued for the holiday every year.
Kazimierz Michał Władysław Wiktor Pułaski was born on 6 March 1745 in Warsaw, Poland. He and his father Józef Pulaski were among the founders of the Bar Confederation, an association formed to defend Poland against Russia and
King Stanisław August Poniatowski
. Pulaski became the commander after his father died in 1769. One of his military accomplishments was taking control of the
Jasna Góra Monastery
in September 1770. In 1771 members of the Bar Confederation attempted to kidnap King Stanisław August Poniatowski, and Pulaski was implicated. He went to Silesia, Prussia in 1772 and met with
Franciszka Corvin-Krasińska
, the wife of
Charles of Saxony, Duke of Courland
. He went to France in 1773, and attempted to join the French Army, but was unsuccessful. He spent some time in a debtors' prison in 1775. He met Benjamin Franklin in 1777. Franklin and the Marquis de Lafayette recruited him for service in the Continental Army.
On 23 July 1777, Pulaski arrived in Marblehead, Massachusetts. He traveled to Pennsylvania in August, and met George Washington. His first battle in North America was the
Battle of Brandywine
on 11 September 1777. Pulaski gathered troops together and charged in order to prevent the British from retreating. On 15 September 1777, Washington made Pulaski a brigadier general in the Continental Army cavalry.
Pulaski participated in the
Battle of Germantown
, and spent the winter of 1777-1778 at
Valley Forge
. He assisted General
Anthony Wayne
in February 1778, but returned to Valley Forge in March.
Pulaski created a new cavalry regiment, Pulaski's Legion. Its headquarters were in Baltimore, Maryland, and most of the men were recruited there.They participated in the
Little Egg Harbor Massacre
on 15 October 1778.
On 8 May 1779, Pulaski arrived in Charleston, South Carolina.In September, he headed to Georgia. Pulaski's regiment served as advance guard for Admiral
Charles Hector, comte d'Estaing
's troops. Pulaski commanded both the French and American cavalry on 9 October 1779 at the
Siege of Savannah
. He was wounded by
grapeshot
and carried off the battlefield. He died on 11 or 15 October 1779.
My 5th-great-grandfather
Stephen Mayo
also participated in the battles of Brandywine and Germantown.
He and his brother Benjamin
were at Valley Forge together.
Pulaski County, Kentucky is named for Casimir Pulaski. My 5th-great-grandparents
Andrew
and
Hannah
(Hardgrave) Russell lived in Pulaski County, Kentucky, and my 4th-great-grandmother
Sobrina Russell
was probably born there.
References
Bar Confederation
Casimir Pulaski
Casimir Pulaski, Father of the U.S. Cavalry
A Chronology of Casimir Pulaski's Life 1745-1779
General Casimir Pulaski (1745-1779)
General Pulaski Memorial Day