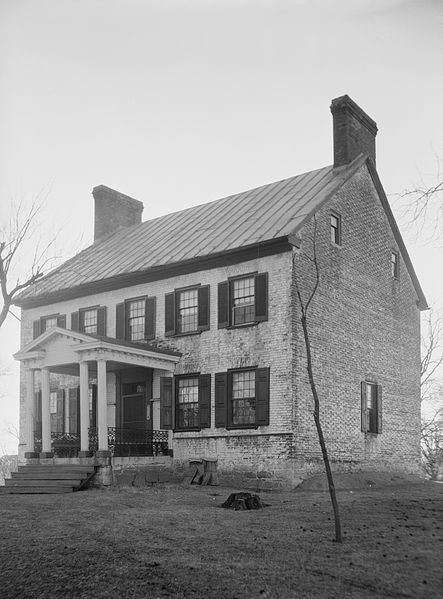 Elmwood. Library of Congress, Prints and Photograph Division HABS: WVA,19-SHENJ.V,1-1. Available from Library of Congress and Wikimedia Commons.
Elmwood is a two-story brick house in Jefferson County, West Virginia. It is located 2.4 miles south of Shepherdstown on County Road 17 (Flowing Springs Road), on 315 acres of land.
The land which Elmwood is located on was claimed by my 7th-great-grandfather Edward Lucas in 1732. The house was built in 1797 by his son Edward Lucas (from his first marriage to Mary Darke), the half-brother of my 6th-great-grandfather
Andrew Lucas
. The house was inherited by Robert Lucas, the son of Edward Lucas and Elizabeth Edwards. Robert, who had received medical certificates from the University of Pennsylvania, volunteered as a physician during the Civil War, and Elmwood was used as an army hospital. The Lucas family owned the home until 1948.
References
Elmwood (Shepherdstown, West Virginia)
National Register of Historic Places Inventory - Nomination Form: Elmwood
West Virginia Cattle Farm Is Family Affair That Will Be Passed On