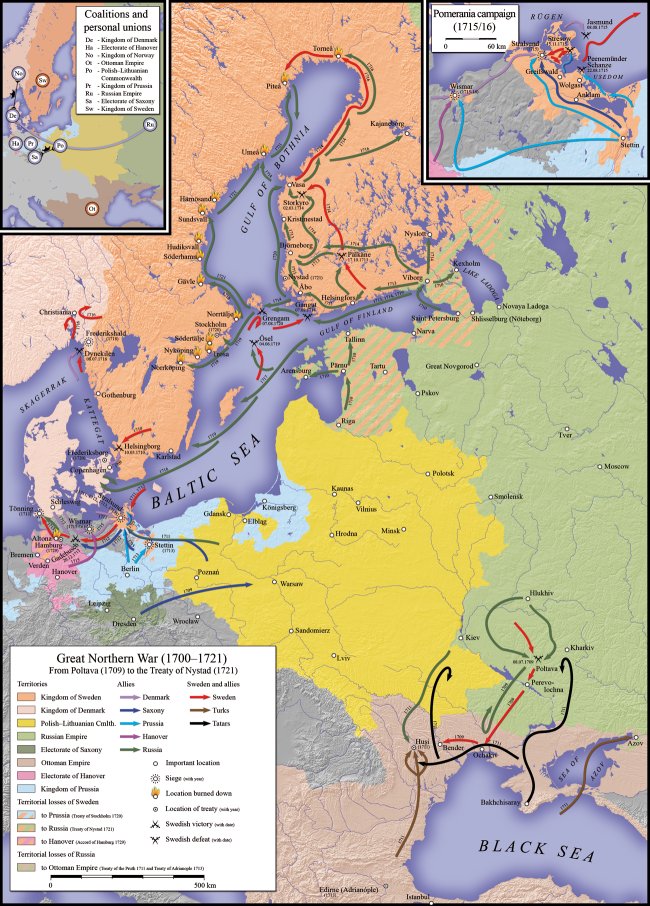 Map of the Great Northern War (1700–1721), Part 2 1709–1721. 9 February 2010. By S. Bollmann [GFDL (http://www.gnu.org/copyleft/fdl.html) or CC BY-SA 3.0 (http://creativecommons.org/licenses/by-sa/3.0)]. Available from Wikimedia Commons.
On 21 January 1720, Sweden and Prussia signed the second Treaty of Stockholm. The first Treaty of Stockholm had been signed between Sweden and Hanover on 9 November 1719. These treaties, along with the
Treaty of Frederiksborg
(signed between Sweden and Denmark-Norway on 3 July 1720) and the
Treaty of Nystad
(signed between Russia and Sweden on 30 August 1721 O.S. [10 September 1721 N.S.], ended the Great Northern War.
Sweden ceded Swedish Pomerania south of the Peene River and east of the Peenestrom River, the islands of Usedom and Wollin, and the towns of Damm, Gollnow, and Stettin to Prussia.
References
Great Northern War
Treaties of Stockholm (Great Northern War)