I share my birthday (May 22) with several other family members, including two living ones. My first cousin once removed Sara (who is closer in age to me than my first cousin, her mother) and my aunt Lenora were also born on May 22. My mother's first cousin
Joan Elise (Roberts) Lee
, who died in 2007, was born on May 22 as well.
But going back further in time and choosing an actual ancestor, not a collateral relative, the ancestor whose birthday is closest to mine is my 6th-great-grandmother Monika Ebner. Monika was born on 20 May 1740 in Landkreis (County) Waldshut, Baden, Germany. The information about her date of birth comes from the book
Familiengeschichte der Gemeinde Görwihl
by Helmut Faller. It is possible that 20 May 1740 is the baptismal date; I am not sure what the source of the date was. I have copies of the baptismal records of my great-great-grandparents, who were born in the same region, and they were both baptized on the day that they were born, so 20 May 1740 may be both her date of birth and date of baptism.
Monika was the daughter of Fridolin Ebner and Maria Meyer. Fridolin was from Etzwil (now part of Albbruck), Waldshut, Baden, Germany. Monika may have been born in Etzwihl.
On 26 February 1759, Monika married Blasius Mutter from Rüsswihl (now part of Görwihl), Waldshut, Baden, Germany. Blasius was a widower twenty years her senior. Monika became the stepmother of Blasius' children from his marriage to Magdalena Rüntzi. On 8 July 1760, Monika's first child, Fridolin, was born (or baptized, or both). Blasius and Magdalena had two sons named Fridolin; these children probably died young, and Monika's son Fridolin may have been named after them. He could also have been named after her father. Monika had eight more children in the next sixteen years: Wendelin (19 October 1761), Magdalena (15 June 1763), Monica (30 July 1765), my 5th-great-grandmother Ursula (30 March 1765), Blasius (6 August 1769), Maria Franzisca (10 March 1772), Blasius (23 November 1775), and Monica (13 August 1777). Because two daughters were named Monica and two sons were named Blasius, the first Monica and the first Blasius probably died young.
Monika died on 25 November 1793. She was only 53 years old. Her husband Blasius was a widower once again.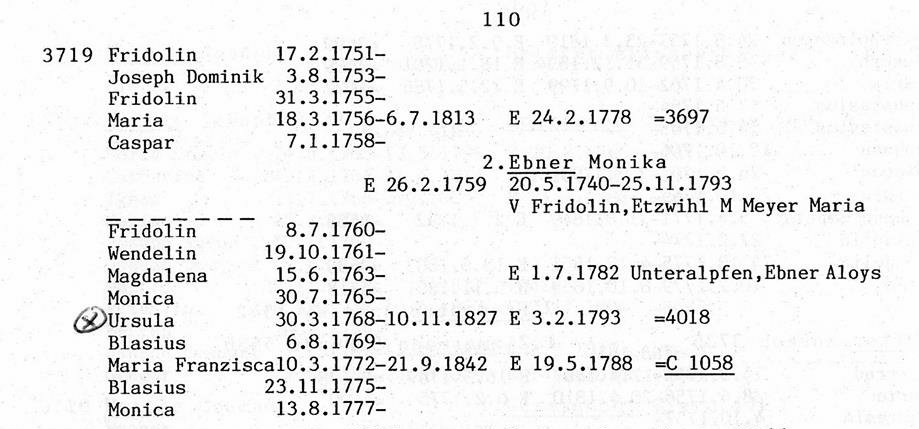 Faller, Helmut. Familiengeschichte der Gemeinde Görwihl. Bad Säckingen: H. Faller, 2000.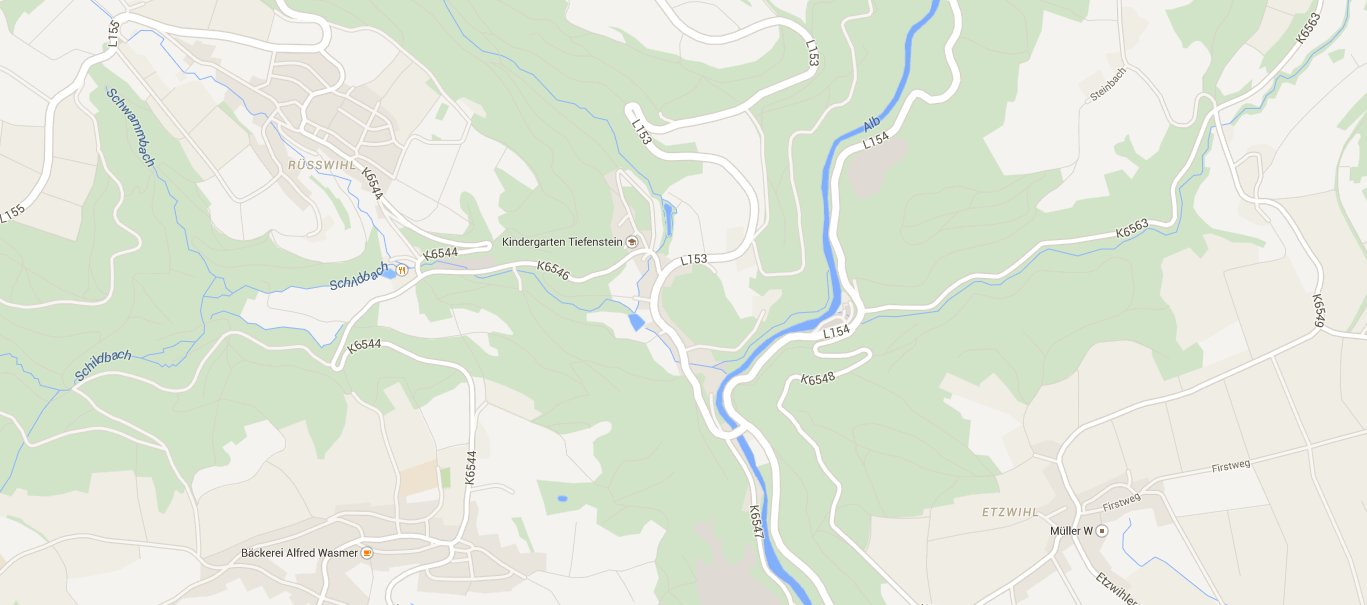 Rüsswihl (top left) and Etzwihl (bottom right). Google Maps.