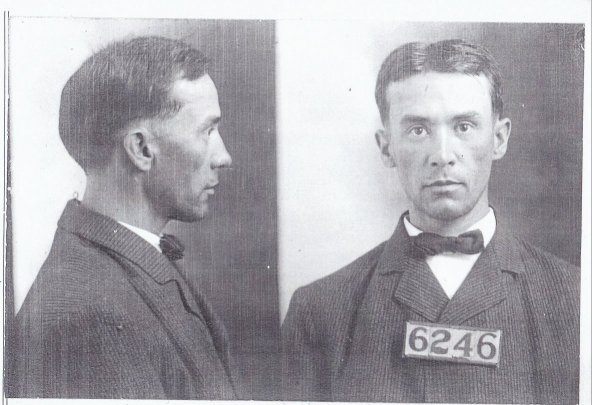 Mug shot of William Gatlin. From Department of Correction Indiana State Prison records. Record details available at https://secure.in.gov/apps/icpr/search/Home/Detail?rId=543590
I recently obtained the prison records for
William D. Gatlin
, my great-grandfather
Henry Brown Gatlin
's brother, from the
Indiana State Archives
. He began his sentence at the Indiana Reformatory on 6 December 1912, and he was transferred to the Indiana State Prison on 30 July 1915. He was paroled on 25 May 1917. The records include inmate registers, his records as a citizen and inmate, and his
Bertillon
card with his measurements and mug shot. If he were not wearing his prison ID number, he would look like a fine young man; he certainly made a nice appearance!
While in the Indiana Reformatory, William was punished for refusing to work, talking in D.R., misconduct, fighting, and talking in chapel. While in the Indiana State Prison, William was punished for insubordination, breach of trust, aiding & planning with other inmates to escape, and having a cigarette stub.
The records include notes about his previous and later prison sentences. He had been sent to Chester, Illinois for 1 to 20 years for robbery, and served 3 years 4 months or 3 years 6 months (two different lengths are given in the records). I know he was there in 1910, because he was in the Southern Illinois Penitentiary in Chester, Randolph County, Illinois during the
1910 United States census
. During his sentence, he broke out of prison twice and was caught after he committed a burglary at Henry, Illinois. On 13 July 1917, he was sent to Joliet Prison for 1-14 years for robbery (and he died there two years later). He was back in prison less than two months after he was paroled!
The records also provided information about his parents and siblings. I had known that his brother John was in naval prison, but the records told me that he was in the Charlestown, Massachusetts prison.