On 1 November 2005, the United Nations General Assembly Resolution 60/7 was adopted, and January 27 was designated International Holocaust Remembrance Day. The date was chosen because
Auschwitz-Birkenau
was liberated by Soviet troops on 27 January 1945. United Nations member states are encouraged to develop educational programs about the Holocaust which will honor the memory of the victims and will hopefully prevent genocide.
My first cousin Nicholas lost family members in the Holocaust. His great-grandfather Isaac (Yitschak) Birnsweig (or Birenzweig) was sent to
Treblinka
in 1942. Other members of Isaac's family were sent there as well. The family was from Tomaszów Mazowiecki, Poland. In November 1942, 16,000 Jews from Tomaszów Mazowiecki were sent to Treblinka, and 4,000 were killed locally.
My cousin's great-grandfather is listed under a variant spelling, Icchak Birencwjg, on the
B page
of the necrology list of the
WE REMEMBER TOMASZOW MAZOWIECKI!
Web site. Abraham Birencwajg, Mendil Birencwajg, and Mosze Birencwajg may be my cousin's relatives too. Icchak's daughters may be listed under married names.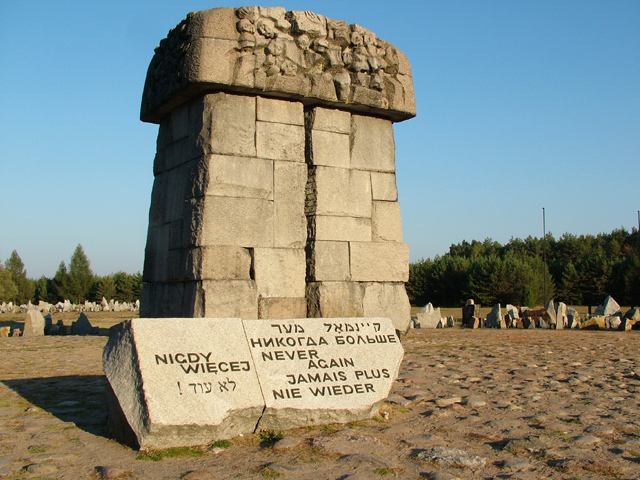 Day 3: The "big stone" Monument in Treblinka. By Lidan from Beer Sheva, Israel [CC BY 2.0 (http://creativecommons.org/licenses/by/2.0)]. Available from Flickr and Wikimedia Commons.
References
The Holocaust and the United Nations Outreach Programme
International Holocaust Remembrance Day
Jewish ghettos in German-occupied Poland
Resolution adopted by the General Assembly on the Holocaust Remembrance (A/RES/60/7, 1 November 2005)
United States Holocaust Memorial Museum: International Holocaust Remembrance Day
WE REMEMBER TOMASZOW MAZOWIECKI!