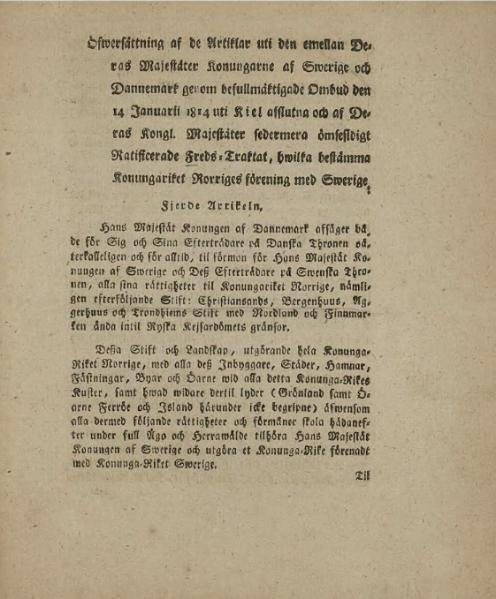 Reprint of the part of the Treaty of Kiel which is concerned with Norway. Fahlun : P.O. Axmar, 1814. Image available from National Library of Norway and Wikimedia Commons.
The Treaty of Kiel, or Peace of Kiel, was signed on 14 January 1814. The United Kingdom and the Kingdom of Sweden concluded the treaty with the Kingdoms of Denmark and Norway. Most of Norway was ceded to Sweden. Denmark kept Greenland, Iceland, and the Faroe Islands. Swedish Pomerania was ceded to Denmark.
Norway did not accept the terms of the treaty, and declared independence. Crown Prince Carl Johan invaded Norway, and Norway surrendered. A peace treaty between Sweden and Norway was signed on 14 August 1814, and Norway and Sweden entered a personal union.
References
King Carl Johan (1763-1844)
The Peace Treaty of Kiel
Treaty of Kiel