The Winters family Bible contains a transcribed death notice for Margaret McGillivray, the wife of the late Charles Buise. The only date given was the 26th inst." I eventually found the original death notice, which had been published in the
Montreal Daily Witness
, 27 January 1880.
My 3rd-great-grandfather
John Bennet Winters
married Elizabeth Buise at St. Gabriel Street Presbyterian Church in Montreal on 18 May 1878. According to the record of their marriage, Elizabeth's parents were George Buise and Margaret White, and they were both deceased at the time of her marriage. John Bennet Winters died in Montreal on 25 December 1879. He and Elizabeth Buise were not married long. It is likely that there is some connection between Elizabeth Buise and Margaret McGillivray's husband Charles Buise, but since John and Elizabeth were not married long, I wonder if there is another reason that Margaret McGillivray's death notice was transcribed in the Winters family Bible. Maybe Margaret McGillivray was related to John Bennet Winters, to John's previous wife Anna "Ann" Walker, or to James Graham, husband of John and Ann's daughter Catherine Elizabeth Winters. Maybe she introduced John and Elizabeth. I do not know why the Winters family moved from the Chicago, Illinois area to Montreal, Quebec, Canada. Maybe they knew someone there, possibly Margaret McGillivray.
Margaret married Charles Bews at Presbyterian Saint Andrew's Church in Quebec City, Quebec on 25 March 1847. The marriage record stated that Margaret was a spinster and was from Beauport. Their son Charles was born on 21 May 1847 and baptized on 22 November 1847 at Presbyterian Saint Andrew's Church in Quebec City. The record noted that the father was absent. Margaret was buried on 28 January 1880. Her burial is noted in the records of Anglican Christ Church Cathedral, Montreal. John McGillivray witnessed the burial.
I have not yet been able to find more information on Margaret McGillivray. I have found some information on her son Charles Buise,who lived in Montreal until about 1889, but I still do not know how this Buise family is connected to Elizabeth Buise, or if Margaret McGillivray is related to me in some way.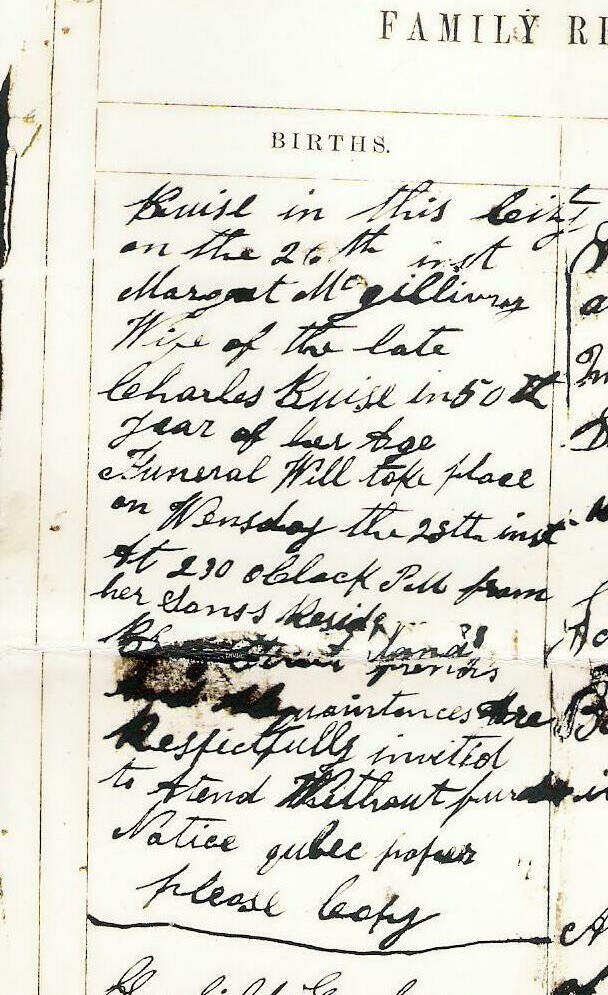 Margaret McGillivray Buise death notice, transcribed in the Winters family Bible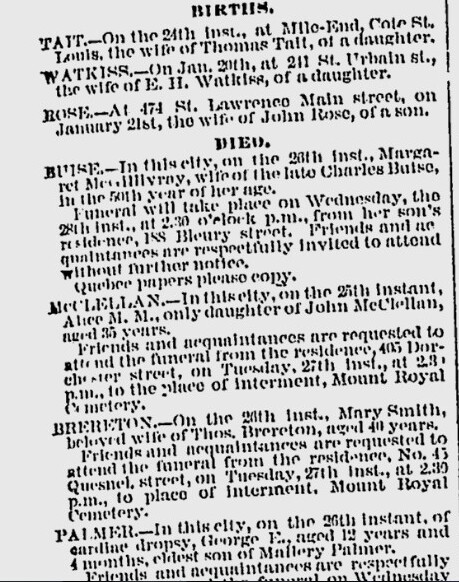 Margaret McGillivray Buise death notice, Montreal Daily Witness, 27 January 1880