Finding Scandinavian ancestors in United States census records can be a challenge. Spelling variations are not the only potential difficulty. The same individual could be listed under his/her patronymic, his/her father's patronymic, or another surname (in the case of Norwegians, it could be a farm name). This 1875 Minnesota state census record shows that even members of the same family could be enumerated under different surnames.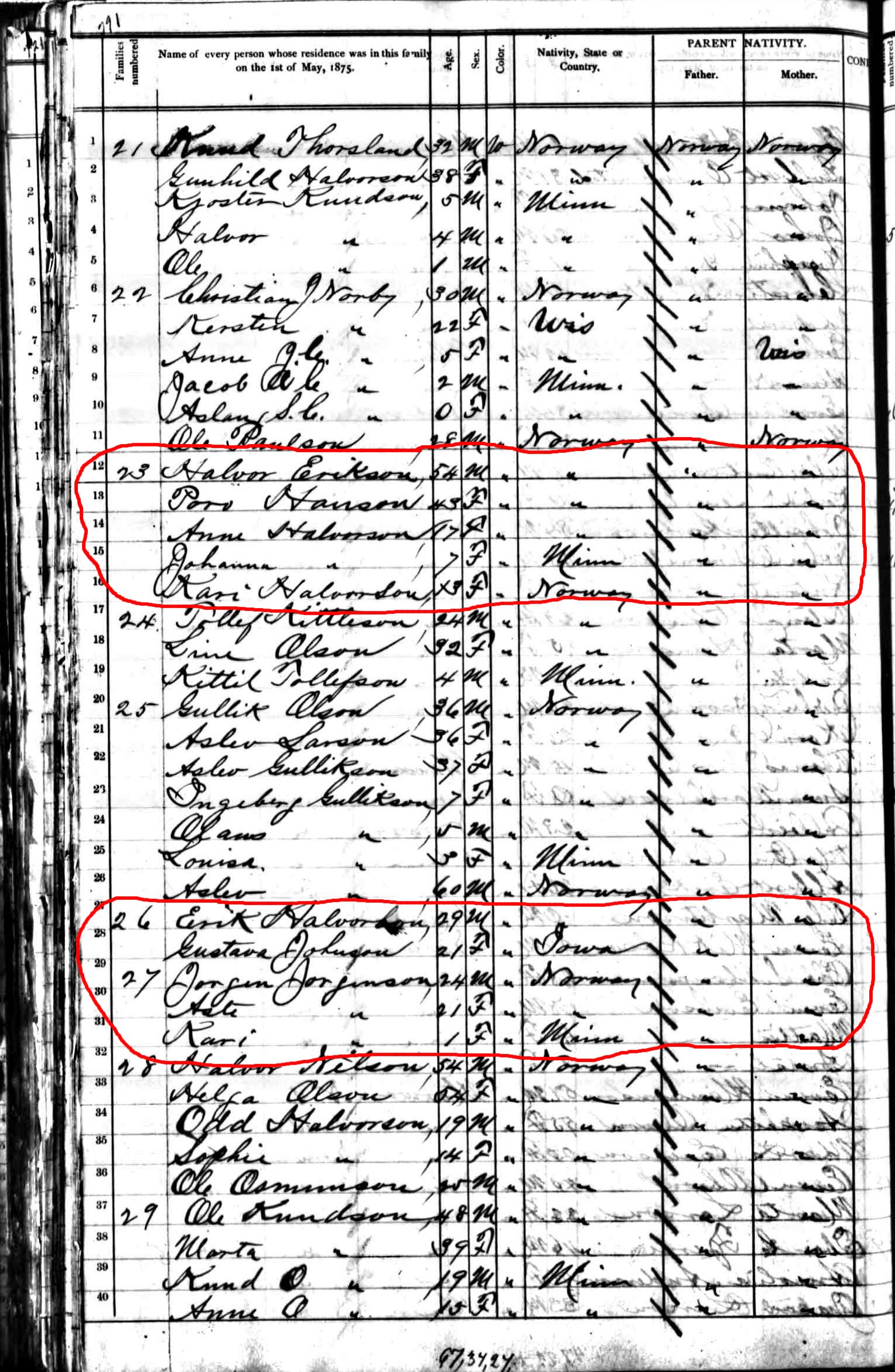 Minnesota state census, population schedule, 1875. Swenoda, Swift County, page 791.
Ancestry.com. Minnesota, Territorial and State Censuses, 1849-1905 [database on-line]. Provo, UT, USA: Ancestry.com Operations Inc, 2007.
The first circled family consists of my 3rd-great-grandparents Halvor Eriksen and Guro Hansdatter and three of their children. My 3rd-great-grandfather is enumerated as Halvor Erikson, my 3rd-great grandmother is enumerated as Toro Hanson, and their daughters are enumerated as Anne, Johanna, and Kari Halvorson. Every member of the household is listed under the patronymic that would have been used in Norway, although the women are listed under the masculine version. Even daughter Johanna, born in Minnesota, is listed with a patronymic instead of her father's surname.
Two more children of this couple are listed on the same census page. Their son Erik Halvorson is listed with Gustava Johnson. Their surnames are different, but they are husband and wife; they married on 16 August 1874. Their daughter Aaste (enumerated as Aste) and her husband Jorgen Jorgenson (my great-great-grandparents) are listed below with their daughter Kari. All of them are enumerated with the surname Jorgenson.
By 1880, Jorgen and his family were using the surname Boe. Erik most often used the surname Halvorson, but sometimes used the surname Otterholt. As adults, some of his children used the surname Halvorson, and some used Otterholt.