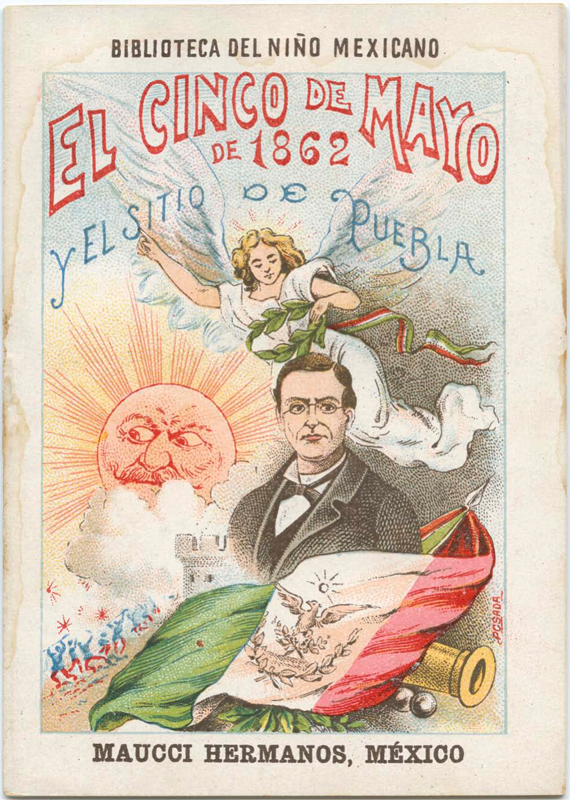 Cinco de Mayo, 1901 poster: El cinco de Mayo de 1862 y el sitio de Puebla Alternative Title: May 5, 1862 and the siege of Puebla. Creator: Frias, Heriberto, 1870-1925. Contributors: Posada, Jose Guadalupe, 1852-1913 (illustrator); Maucci Hermanos, Mexico (publisher). Part of Biblioteca del niño mexicano. Southern Methodist University, Central University Libraries, DeGolyer Library. Available from DeGolyer Library and Wikimedia Commons.
Cinco de Mayo commemorates the victory of the Mexican Army over the occupying French army at the Battle of Puebla on May 5, 1862. Mexican President
Benito Juárez
declared the day a national holiday on May 9. 1862. Although it is no longer a national holiday throughout Mexico, schools are closed throughout Mexico It is mostly celebrated in the state of Puebla; it is a holiday there and in the neighboring state of Veracruz.
Cinco de Mayo is also celebrated in the United States. It has been celebrated in California since 1863. Many celebrations take place along the United States/Mexico border and in areas with large Mexican-American populations. The holiday has become a celebration of Mexican culture.
Although I do not have Mexican ancestors, the wife of one of my cousins is from Mexico, and my
maternal grandmother's
brother
Carl Schneider
lived in
Ciudad Mante
, Tamaulipas, Mexico at the end of his life.
References
Cinco de Mayo
Cinco de Mayo from Mexonline.com - The Battle of Puebla, Mexico in 1862
Cinco de Mayo Observance Is Important Because It Provides a Collective Identity for Latinos, Says UCLA Center