On 2 August 1900, my
great-grandmother
's brother Garfield Graham (also known as Garfield Mapplebeck) and five other men left Alton, Madison County, Illinois and headed to St. Louis, Missouri. They intended to enlist in the United States Army and serve in China.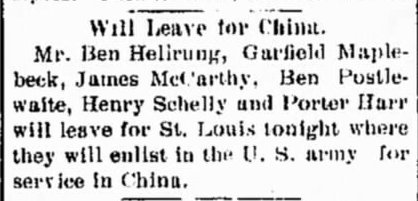 Alton Evening Telegraph, 2 August 1900, page 3
The Boxer Rebellion was taking place in China at this time. A Chinese secret society called
I-ho-ch'uan
(Society of Righteous and Harmonious Fists) was opposed to the influence of foreigners and the Christian religion. They became known in English as the Boxers because they practiced martial arts. The Boxers attacked and killed missionaries and other foreigners, as well as Chinese Christians.
The Eight-Nation Alliance was formed in response to the Boxer Rebellion. It consisted of the British Empire, the United States, Japan, Russia, Germany, France, Italy, and Austria-Hungary. The U.S. Army, Navy, and Marines participated in the China Relief Expedition and attempted to rescue United States citizens and other foreign nationals.
In June 1900, the telegraph line between Beijing and Tientsin was cut, and the railway line between the two cities was destroyed. Violence in Beijing increased. An international expedition led by Edward Seymour was sent to Beijing on 10 June 1900, but was forced to retreat to Tientsin after being defeated by the Chinese Army.
In early August 1900, about 19,000 soldiers from the Eight-Nation Alliance began moving from Tientsin to Beijing. They arrived in the Outer City on 14 August 1900. On 15 August 1900, they entered the Inner City and occupied Beijing.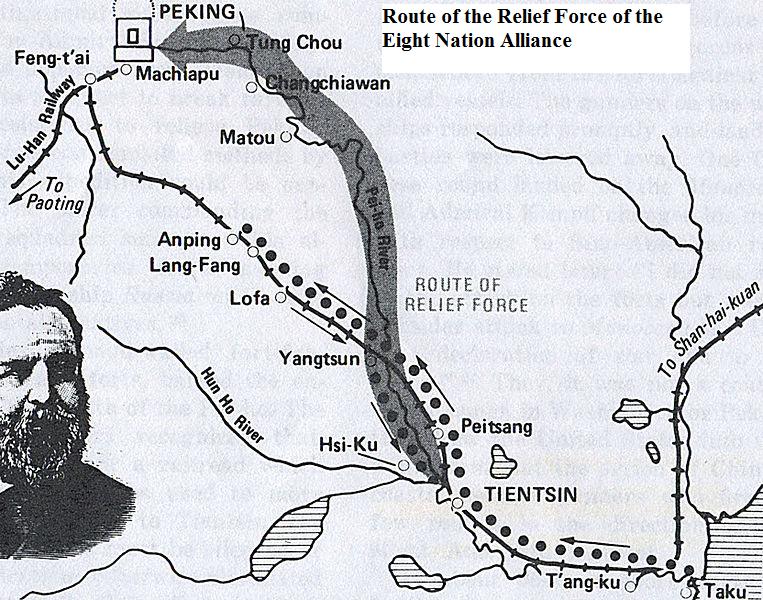 Route of the Relief Force of the Eight Nation Alliance, China, 1900. Retouched by Smallchief. Original image by U.S. Department of the Army (Military Review Magazine, 1983). Public domain. Available from Wikimedia Commons.
The United States did not participate in subsequent military operations. Most U.S. troops had been sent to Manila by the following winter.
Given the timing of events, Garfield probably did not serve in China as he had intended to do. I am not sure if he even ended up enlisting in the army. According to his
1930 U.S. census
enumeration, he was not a veteran. However, since I do not know who provided the information to the census taker, the information could be incorrect. He was still in Alton in 1901, working at the
glass company
, so it seems likely that he did not end up enlisting. But if the American role in the Boxer Rebellion had continued for a longer period, perhaps he would have gone to China.
References
Boxer Rebellion
The Boxer Rebellion in China 1898-1900
China (Boxer Rebellion), 1900-01
China Relief Expedition
Eight-Nation Alliance
Leonhard, Robert.
The China Relief Expedition: Joint Coalition Warfare in China, Summer 1900
.
Seymour Expedition