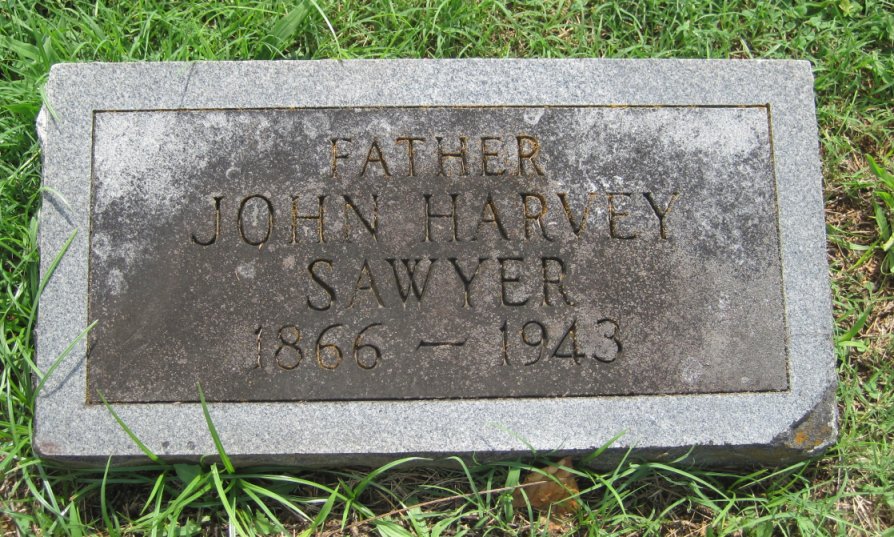 John Harvey Sawyer was born on 10 January 1866 in Williamson County, Tennessee. He was the son of Lemuel Sawyer and Charlotte Carrington. He married Alice Taylor on 6 March 1889. They had six children: William Leslie Sawyer (born 14 February 1890), John Allen Sawyer (born 20 January 1892), Jane Sawyer (born March 1894), James Henry Sawyer (born 15 February 1896), Etta Sawyer (born about 1904), and Alice Sawyer (born about 1908).
John worked as a farmer. He was the sheriff of Williamson County in 1920, and possibly longer (either before or after 1920).
John's wife Alice died on 27 October 1923. On 1 June 1942, John married Emma Beech. John died on 6 July 1943 in Franklin, Williamson County, Tennessee. He was buried in Mount Hope Cemetery in Franklin.
John was my second cousin 4 times removed. Charlotte Carrington's mother was Malvira Russell, the sister of my 4th-great-grandmother
Sobrina Russell
. Charlotte's sister Sophronia Carrington married Lemuel Sawyer's brother William D. Sawyer on 1 January 1852. Lemuel and Charlotte married on 26 December 1854. Malvira (Russell) Carrington, the widow of William or Wiley Carrington, married Lemuel and William D.'s father, William Sawyer, on 30 November 1859. I suspect that William was the brother of James Sawyer, who I believe was the father of my 3rd-great-grandmother
Amanda Russell
. So John may be my double second cousin 4 times removed.