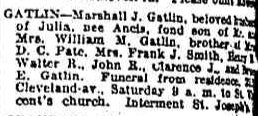 Chicago Daily Tribune, 14 September 1923, page 10
GATLIN––Marshall J. Gatlin, beloved husband of Julia, nee Ancis, fond son of Mr. and Mrs. William M. Gatlin, brother of Mrs. D. C. Pate, Mrs. Frank J. Smith, Henry B., Walter R., John R., Clarence J., and Bruce E. Gatlin. Funeral from residence, 2119 Cleveland av., Saturday 9 a.m. to St. Vincent's church. Interment St. Joseph's.
Marshall J. Gatlin was born on 24 June 1903 in Nashville, Tennessee. He was the youngest child of my 2nd-great-grandparents John William Morton Gatlin and
Sarah Claire Dyer
. By 1911, he was living in Chicago, Illinois. He married Julia Ancis on 16 August 1922. He worked as a printer. Marshall died of tuberculous peritonitis at his residence in Chicago on 13 September 1923.