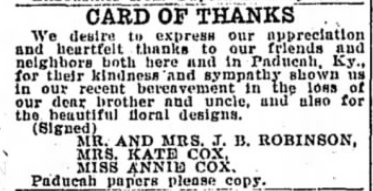 Nashville Tennesseean, 28 November 1913, page 13
George Hanley Fant, the former brother-in-law of my
2nd-great-grandmother
's half-brother
Tom Cox
,
died on 22 November 1918
in Nashville, Tennessee. His
World War I draft registration card
shows that he was a resident of Paducah, McCracken County, Kentucky on 22 September 1918.
A card of thanks was published in the
Nashville Tennessean
by his family: his brother-in-law and sister John B. and Laura (Fant) Robinson, his sister Kate (Fant) Cox (Tom Cox's ex-wife), and his niece Annie Cox (Kate and Tom Cox's daughter).