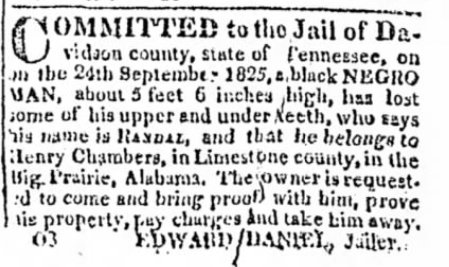 Nashville Whig, 17 October 1825, page 4
From the
Nashville Whig
(Nashville, Davidson County, Tennessee):
COMMITTED to the Jail of Davidson county, state of Tennessee, on the 24th September 1825, a black NEGRO MAN, about 5 feet 6 inches high, has lost some of his upper and under teeth, who says his name is RANDAL, and that he belongs to Henry Chambers, in Limestone County, in the Big Prairie, Alabama. The owner is requested to come and bring proof with him, prove his property, pay charges and take him away.
O3 EDWARD DANIEL, Jailer.