On 25 August 1909, my
great-grandfather
's brother Bruce Gatlin and his friend Willie Dowd were climbing a tree which had a wire through it. They received an electric shock from the wire and fell out of the tree. The boys fell about 9 or 10 feet and hit their heads on the curb. Bruce fractured his skull and was taken to
St. Thomas Hospital
in Nashville, Tennessee. Willie seemed to be less seriously injured and was taken home.

Nashville American, 26 August 1909, page 10
Although at first it seemed probable that Bruce would die, he recovered. However, Willie's condition worsened. He began to suffer from paralysis of the bowels, and surgery was performed at St. Thomas Hospital. Although he survived the surgery, he grew weaker, and he passed away that night.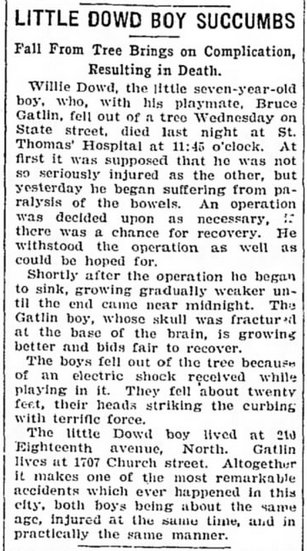 Nashville American, 28 August 1909, page 3
Willie's death certificate appears to be dated 21 August 1909, but the accident did not occur until 25 August 1909. The date of the record may have faded; I see a small spot to the left of the 1 that may actually be part of a 7.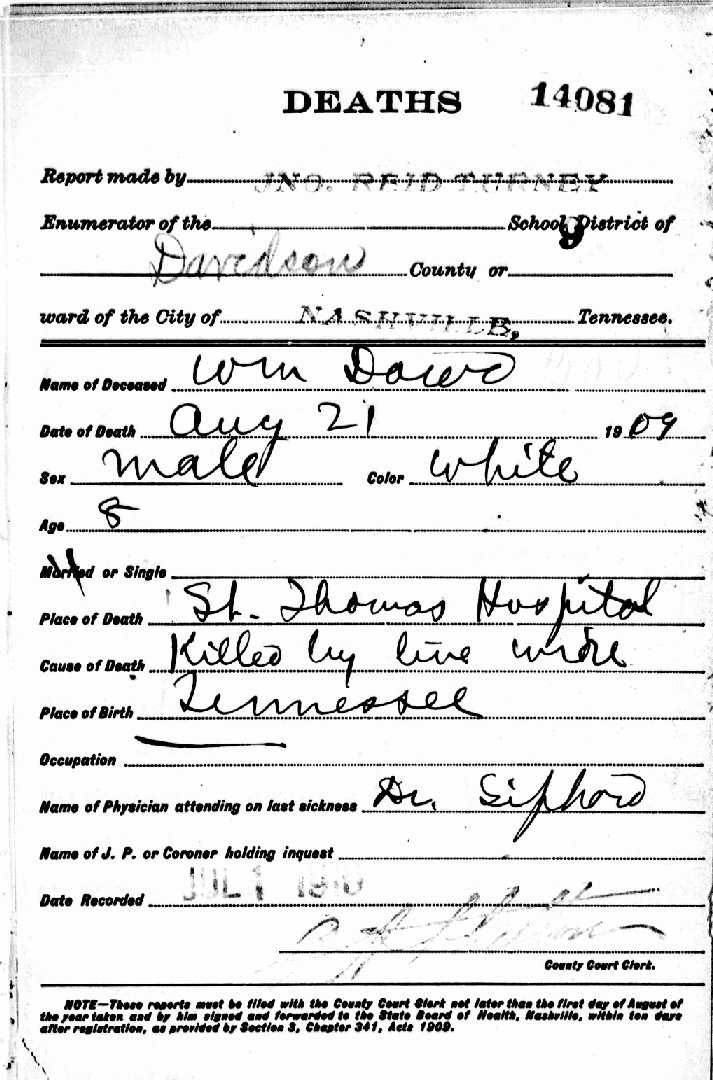 Davidson County, Tennessee Death Records, death record no. 14081. Wm. Dowd, 21 [27?] Aug. 1909. Ancestry.com. Tennessee, Death Records, 1908-1958 [database on-line]. Provo, UT, USA: Ancestry.com Operations, Inc., 2011. Original data: Tennessee Death Records, 1908-1958. Nashville, Tennessee: Tennessee State Library and Archives.
My 2nd-great-grandfather William M. Gatlin and Willie's mother Theresa Dowd filed suits against the
Nashville Railway & Light Company
. They claimed that the company was responsible for the accident.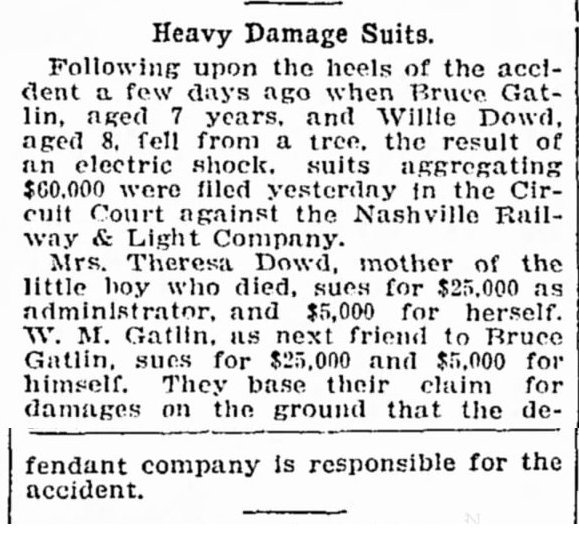 Nashville American, 1 September 1909, page 10