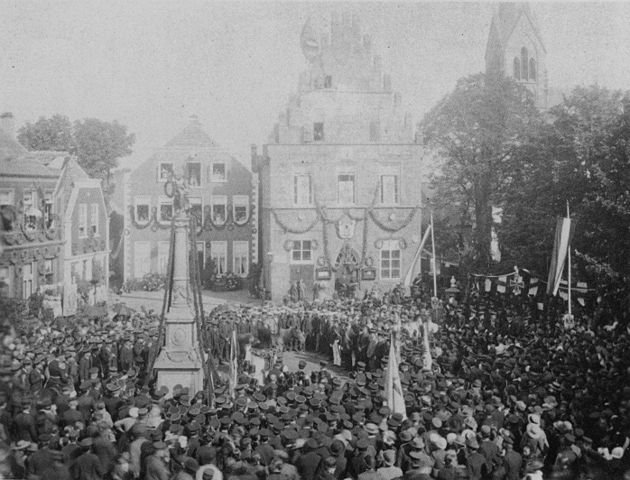 Sedan Day celebration at the Schüttorf market place, 2 September 1895. Public domain. Available from Wikimedia Commons.
Sedantag
(Sedan Day) was a semi-official holiday that was observed on September 2 in the German Empire. It commemorated the victory of King Wilhelm of Prussia in the
Battle of Sedan
, which was fought on 1 September 1870 during the Franco-Prussian War.
Celebration festivities varied, and could include parades, patriotic speeches, musical performances, and pageants. In schools, celebrations were held in classrooms or auditoriums. Not all parts of the German Empire observed
Sedantag
.
Sedantag
was also celebrated by German-Americans.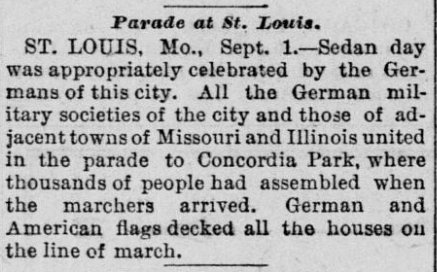 San Francisco Call, 2 September 1895, page 2
On 27 August 1919, the Innenministerium of the Weimar Republic declared that
Sedantag
celebrations would no longer be held.
References
Kieler Erinnerungstag 2. September: Der Sedantag
Memories of Sedan Day Festivities in the 1870s (Retrospective Account, 1930)
Sedan Day
Sedantag
Zimmer, Oliver.
Remaking the Rhythms of Life: German Communities in the Age of the Nation-State
. Oxford, England: Oxford University Press, 2013.