Shortly before the 1892 wrestling match between D. S. McLeod and Joe Acton, Charles Buise deposited $250 with the Chronicle to secure a bet on McLeod, $1000 against $1100. Washington Marion, a traveling salesman, gave Charles Buise $500 to bet on McLeod, and Buise secured a bet of $600 for him.

San Francisco Chronicle, 22 January 1892
Prior to the match, there was suspicion that the contest would not be a fair one. McLeod won the match.

The Morning Call (San Francisco, CA), 11 March 1892
Charles Buise was the proprietor of the Hot Scotch saloon on Morton Street in San Francisco. After he collected his winnings, he did not give Washington Marion his share of the money. He sold his saloon to his bartender, and headed to Portland, Oregon, where his wife was working as a song and dance performer. He was captured there several months later and was brought back to San Francisco. He was charged with embezzlement and placed in the San Francisco City Prison, but was released on $3000 bond.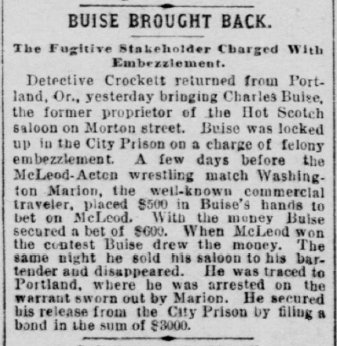 The Morning Call (San Francisco, CA), 1 July 1892
After getting out on bail, Charles Buise left the United States and returned to his home country, Canada. He went to Victoria, British Columbia. The winning wrestler, McLeod, was also from British Columbia; he came from Nanaimo. I wonder if this was coincidental, or if there was some connection. Charles Buise had been born and
baptized
in Quebec City, and had lived in Montreal before he came to San Francisco (and had allegedly
passed a counterfeit bill
there in 1887). Although an attempt was made to capture him in British Columbia, he escaped and went to Montreal. When he found out that his wife was cheating on him with actor Waldo Whipple, he tracked them down in Butte, Montana, where
he shot them and then shot himself
.

San Francisco Chronicle, 27 January 1893
Although the above article states that Waldo Whipple also died, he actually survived his injuries.
Charles Buise was probably related to
Elizabeth Buise
, who married my 3rd-great-grandfather
John Bennet Winters
. But since his mother
Margaret McGillivray
's death notice was transcribed in the Winters family Bible and she was not Elizabeth Buise's mother, I wonder if he is also related to me. I have many black sheep in my family. Considering all of Charles Buise's misdeeds, I figure he must be my cousin!