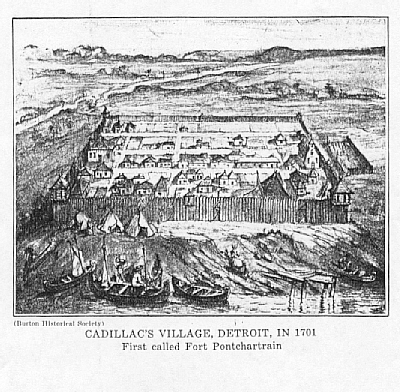 On 24 July 1701, the city of Detroit was founded. Antoine Laumet de la Mothe, sieur de Cadillac, was given $1500 livre (about $300) by Louis XIV of France to help establish a fort and trading post on the Detroit River. The French wanted to keep the British from moving west of New England, to control the traffic on the Detroit River, and to monopolize the fur trade.
Cadillac left from Montreal with a party of 100 Frenchmen, including Captain Alphonse de Tonty,
First Sergeant Jacob de Marsac, Robert Chevalier de Beauchêne, Father Nicholas Bernardin Constantin Delhalle (a Recollet priest), and Father François Vaillant de Gueslis (a Jesuit priest). About 100 Indians also traveled with them. They traveled up the Ottawa River on canoes to Lake Nipissing, down the French River and the Pickerel River to the Georgian Bay, south to Lake Huron, down the St. Clair River and through Lake St. Clair, until they reached the Detroit River. They set up camp at Grosse Ile on 23 July 1701. The next day, they traveled north and began building a settlement
on the narrowest part of the river, overlooking the strait between Lake Erie and Lake St Clair. The settlement was named F
ort
Pontchartrain du Détroit, after Louis Phélypeaux, comte de Pontchartrain or his son Jérôme Phélypeaux, comte de Pontchartrain. Détroit is the French word for "strait."
Ste. Anne de Détroit Catholic Church was the first building to be completed in the settlement. The second building to be completed was the stockade.
References
Antoine de la Mothe Cadillac
Early Detroit: 1701-1760
Fort Detroit
The Founding of Detroit
French Detroit 1701-1760
People of Detroit: Antoine de la Mothe, Sieur de Cadillac
Ste. Anne de Detroit Catholic Church