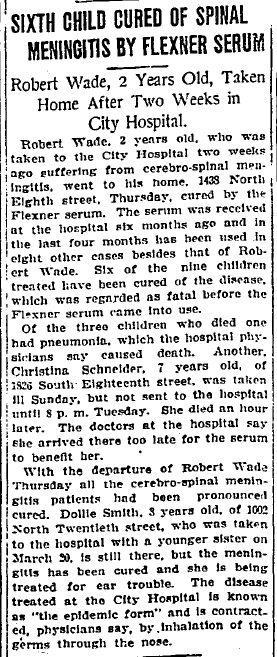 St. Louis Post-Dispatch, 29 April 1909, page 6
Long before I became interested in genealogy, I knew that my
maternal grandmother
's oldest sister,
Christina Schneider
, had died of spinal meningitis as a child. I have not found a death record for her, but the above newspaper article confirms her cause of death.
It was heartbreaking for me to read this article. Six months earlier, St. Louis City Hospital had received
Flexner serum
, which was used to cure spinal meningitis. Since then, six of the nine children treated for spinal meningitis at the hospital had been cured. Sadly, Christina was not one of them. She died an hour after being brought to the hospital. The doctors said that she arrived too late to be helped by the serum.
My great-grandparents probably read this article too. My aunt Joan, their first grandchild, said that they never really got over Christina's death. Grieving parents reading this article would probably feel guilty and blame themselves for not taking her to the hospital sooner. The media probably did not consider the effect that their words might have on Christina's parents.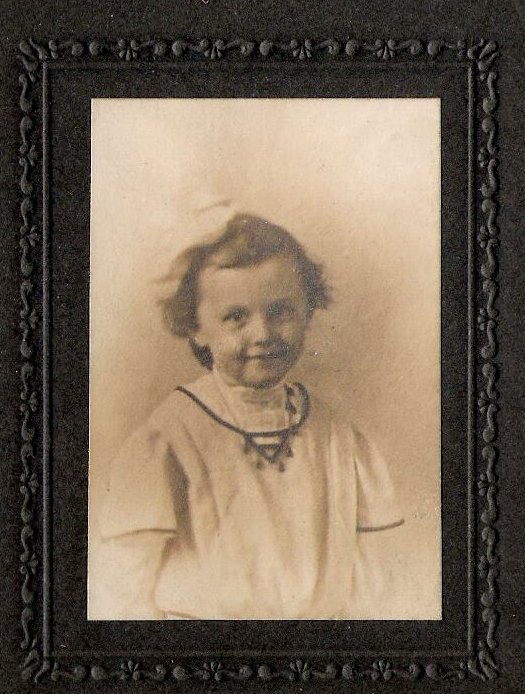 Christina Maria Schneider, 20 April 1903 - 27 April 1909