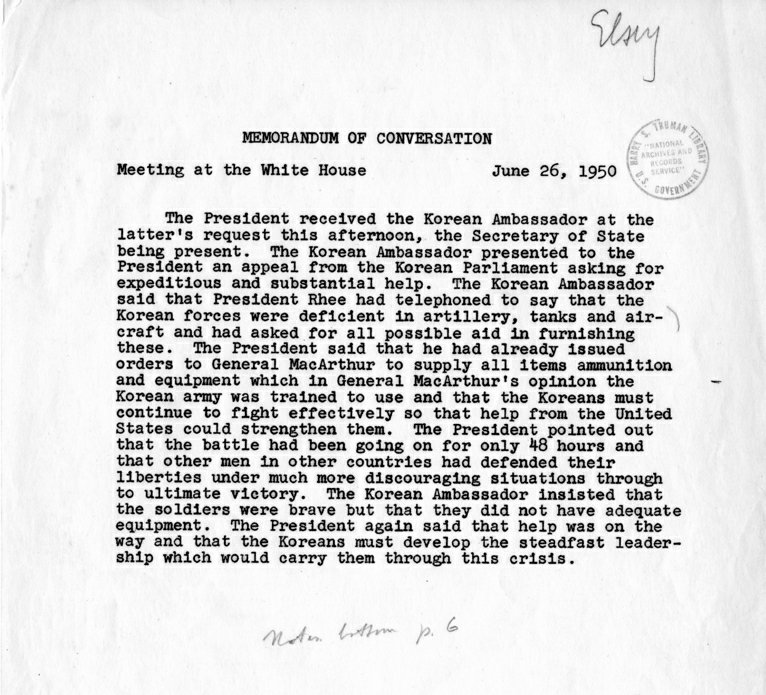 Memorandum of Conversation, June 26, 1950. Harry S. Truman Administration File, Elsey Papers. Available from the Harry S. Truman Library and Museum.
The Korean Conflict began on Sunday, 25 June 1950 at the 38th parallel, the border between North and South Korea.
North Korean leader Kim Il Sung invaded South Korea, and the conflict soon became international. The United Nations, under the leadership of the United States, joined the conflict on the side of South Korea. China and the Soviet Union assisted North Korea.
Harry Ashby Lee, the husband of my first cousin once removed Joan Elise Roberts, served in the United States Navy during the Korean War.
References
Korean Conflict | Veterans Museum
Korean War
The Korean War, 1950–1953 - 1945–1952 - Milestones - Office of the Historian
The Korean War And Its Origins, 1945-1953
Teaching With Documents: The United States Enters the Korean Conflict