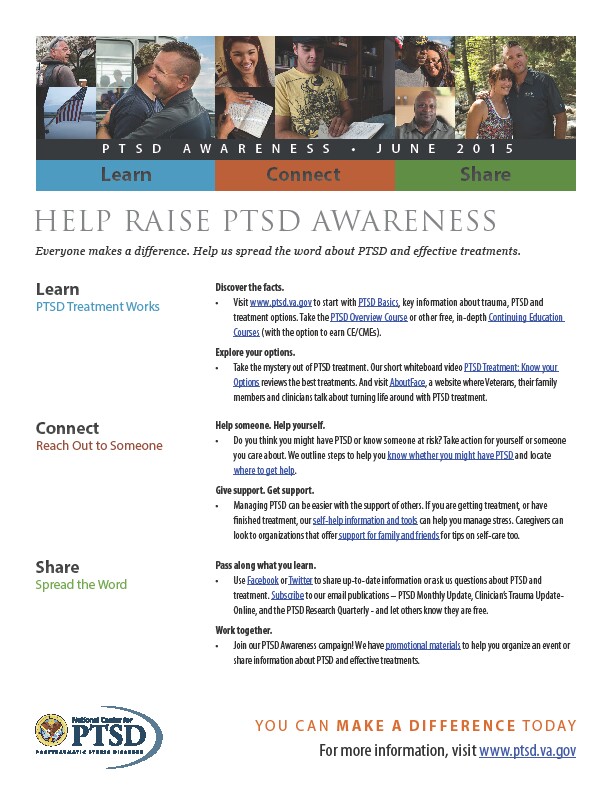 Help Raise PTSD Awareness flyer. National Center for PTSD. Available from http://www.ptsd.va.gov/about/ptsd-awareness/RaisePTSD_Awareness.pdf
In 2010, in order to being greater awareness of posttraumatic stress disorder, the United States Senate designated June 27 as PTSD Awareness Day. June has also been designated as PTSD Awareness Month.
Posttraumatic stress disorder can occur after an individual has been exposed to a single traumatic event or multiple traumatic events, such as combat, abuse, physical or sexual assault,accidents, and natural disasters.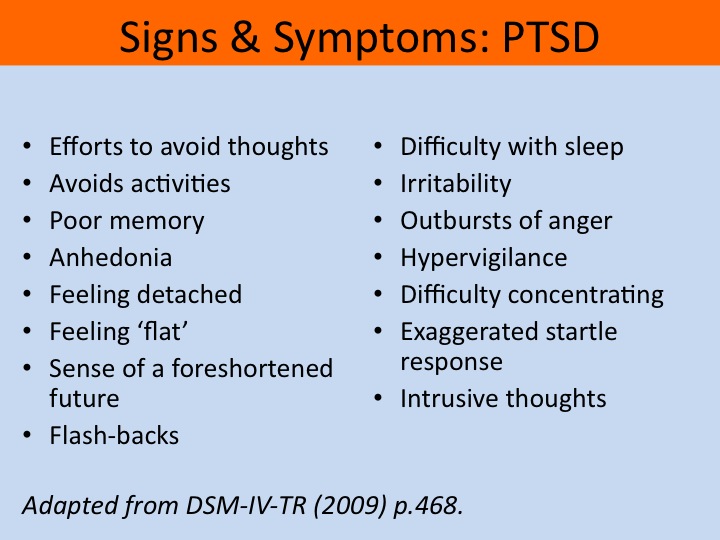 Signs and Symptoms, PTSD. Wikiversity Motivation and Emotion. By Gajah (Own work) [Public domain]. Available from Wikimedia Commons.
People have experienced PTSD for thousands of years, although it was called by different names. Some of my ancestors may have suffered from PTSD.
References
About PTSD Awareness - PTSD: National Center for PTSD
National PTSD Awareness Day (June 27, 2015) | National Child Traumatic Stress Network
NIMH: Post-Traumatic Stress Disorder (PTSD)
PTSD Awareness Month - PTSD: National Center for PTSD
Spotlight: June 27: National PTSD Awareness Day
The VVA Veteran--A Short History of PTSD