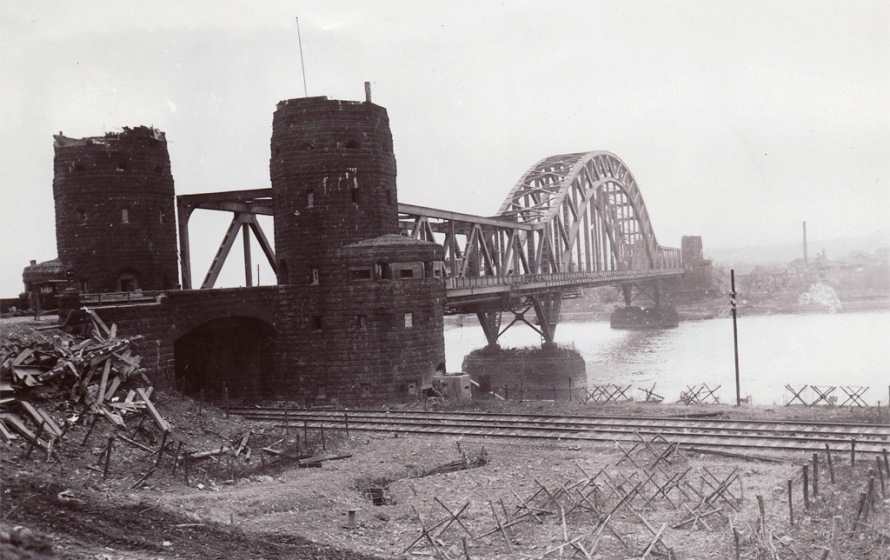 The Ludendorff Bridge over the Rhine at Remagen after it was captured by U.S. troops, 7 March 1945. U.S. Signal Corps/ National Archives. Public domain. Available from Wikimedia Commons.
Today is the 70th anniversary of the capture of the Ludendorff Bridge. The bridge connected Remagen and Erpel, two German ancestral towns of mine. It was built in 1918 to carry supplies to the
Western Front
in World War I, and was named after General
Erich Ludendorff
. Architect Karl Wiener designed it as a railroad bridge; it had two railroad tracks and a walkway for pedestrians.
On 7 March 1945, the U.S.
9th Armored Division
captured the Ludendorff Bridge shortly before 4:00 PM, when they believed the Germans would blow it up. The first American soldier to cross the bridge was
Alexander A. Drabik
; as the Germans fired at him, he ran across the entire length of the bridge. German-born lieutenant
Karl H. Timmermann
was the first officer to cross the bridge. More than 8,000 American soldiers crossed over within 24 hours.
14-year-old Heinrich Lindlohr and his family were in the back part of the bridge tunnel at the time of the surrender. About 40 American soldiers were there as well. Heinrich's sister Anni walked toward the soldiers and carried a white flag. Lindlohr is one of my ancestral surnames from Erpel. I could be related to Heinrich and Anni Lindlohr.
On 17 March 1945, the bridge collapsed as a result of the damage it had sustained.
References
Alexander Drabik, 82, First G.I. To Cross Remagen Bridge in 1945
Battle of Remagen
The Bridge of Remagen - Between Truth and Legend: Contemporary witnesses remember March of 1945
Capturing the Bridge at Remagen, 1945
Ludendorff Bridge
The Ludendorff Bridge Erpel - Remagen
Ludendorff-Bridge - "The battle for the bridge is legendary"
Ludendorff-Bridge ... "The Bridge of Remagen"
Remagen
US Troops Capture Ludendorff Railroad Bridge at Remagen